ADOT to auction vehicles, other equipment April 19 in Phoenix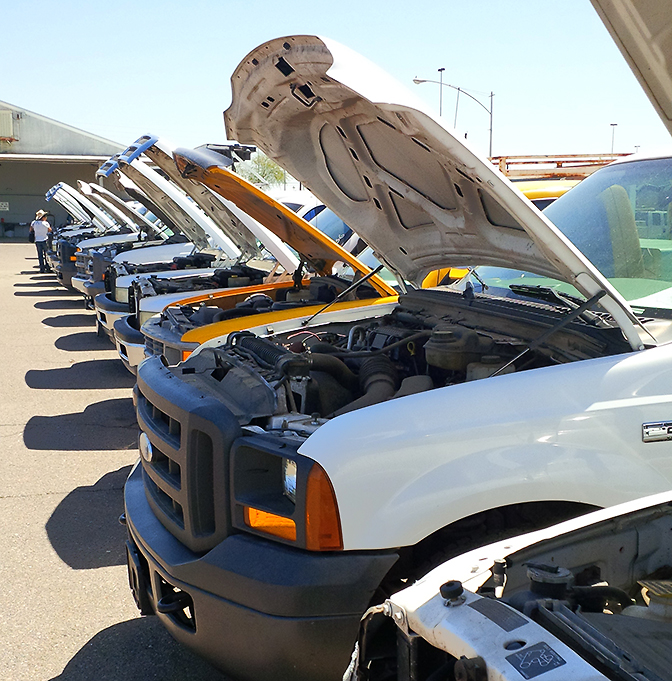 Ever picture yourself as the driver of your very own used dump truck?
If you have, there's a chance for you to bid on such a vehicle at ADOT's upcoming equipment auction.
Along with dump trucks, there will be used pickup trucks, sedans, attenuators, snowplows and even an office trailer up for sale. ADOT regularly holds auctions to dispose of its surplus vehicles and equipment.
This year's spring auction starts at 8 a.m., tomorrow (Saturday, April 19) at the ADOT Equipment Services Auction Yard, 2350 S 22nd Ave., Phoenix 85009. Gates will open at 6 a.m.
If you're thinking about bidding, here's what you need to know…
To avoid a possible line for registering on the day of the auction, potential bidders can register ahead of time at the auction yard through 2 p.m. today. Bidders also can inspect the equipment in advance at the yard through 2 p.m. today. All potential bidders must pre-register in person.
Bidders will still have the option to register on Saturday when the auction yard gates open.
ADOT also encourages everyone who attends to dress appropriately for the outdoor event – please wear proper footwear, use sunscreen, wear a hat and bring water.
Also, know that the ADOT vehicles and equipment will be sold on an "as-is, where-is" basis. You can find a complete item list on our website, along with additional information about the auction. Learn more about ADOT auctions by revisiting some of our previous posts.