Closure slated for eastbound I-10 in Southeast Valley this weekend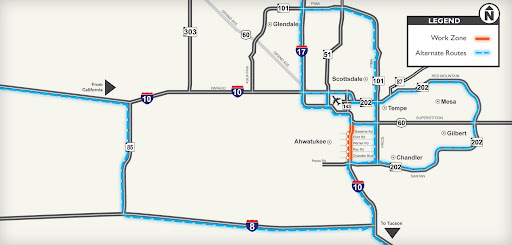 Few things in life are guaranteed … except there's never a good time to close an Interstate. So how does the Arizona Department of Transportation decide when it's feasible to have a major restriction, such as this weekend's closure of eastbound Interstate 10 in the southeast Valley?
Eastbound I-10 will be closed between US 60 (Superstition Freeway) and Loop 202 (Santan Freeway) overnight Friday until early afternoon Saturday (Oct. 1). The eastbound on-ramps at Baseline, Elliot, Warner and Ray roads and Chandler Boulevard; and the westbound US 60 ramp to eastbound I-10 also will be closed. The on-ramp closures are necessary so traffic doesn't flow onto the freeway where it is closed.
ADOT recognizes the significance of this closure and has been working for weeks to notify freeway users, area residents and businesses. We also consider numerous factors before proceeding with our work, such as the type of work that is being done; local traffic counts and patterns; impacts to the local community; and efficient detour routes to name just a few. While we can't always negate the impacts of freeway construction or maintenance projects, we work in partnership with our contractors and the community to identify the best-possible options.
In the case of this weekend's work, a full closure vs. lane restrictions is required to keep motorists and work crews safe. The majority of work will occur 18-20 feet directly above the roadway. Work crews need to disassemble and remove three massive sign structures that span eastbound travel lanes, and then pre-assemble and erect three new, taller structures. Lastly, crews will install new overhead signs that are larger and easier-to-read. It's a huge and complex job that involves at least 18 'round-the-clock workers, a dozen aluminum signs weighing in at 500 pounds each and four cranes – one assigned to each sign structure, plus a spare.
To pull it off, the project team considered a number of options. Originally, the sign work was scheduled to last until early Monday morning. Understanding that the impact of a full weekend closure would be far too significant on the traveling public as well as businesses on the I-10 corridor and adjacent residents, the team chose to bring in three fulltime crews – one for each sign structure. Each crew will have its own equipment so work can occur simultaneously at all three sites. By scheduling work to begin at 10 p.m., at least half of it will occur overnight when fewer drivers are on the highway.
Closing an Interstate also requires a workable detour route – one that can accommodate heavy volumes of traffic, including the truck traffic that's on a tight schedule to pick up or deliver goods. This weekend, all drivers will exit onto eastbound US 60 (Superstition Freeway) to southbound Loop 101 (Price Freeway) to westbound Loop 202 (Santan Freeway) to reconnect with eastbound I-10. Although the detour route is about 12 miles longer, it ensures that traffic can continue to flow on freeways that are designed and built to handle the load, instead of on local streets with signalized intersections.
The best way not to be impacted is to plan your travel before or after this closure occurs. If you can't, then use one of the alternate routes and plan extra travel time. Meanwhile, ADOT will be on high alert to respond if any part of this weekend's work doesn't go as planned. And, we'll take time to look back on this weekend's experience to determine what worked well (and what didn't) so we can do an even better job the next time its necessary to make such a significant closure.