Holiday travelers won't face construction, but there is a restriction on SR 85 this Thanksgiving weekend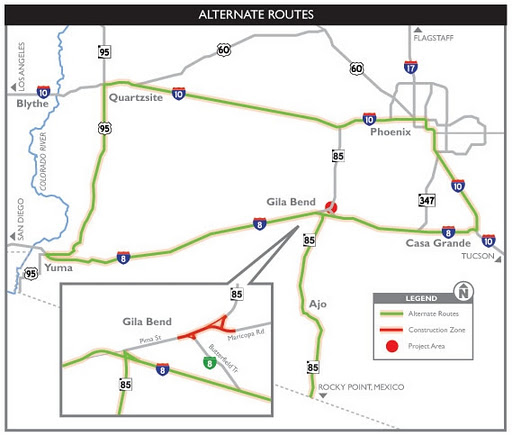 If your Thanksgiving holiday plans include any travel this year, you are not alone.
Higher traffic volumes are expected on our state's highways later this week as drivers hit the road for some time with family and friends (and a turkey dinner!).
While there will be no active construction on the state's highways this holiday weekend, motorists planning on using State Route 85 in Gila Bend should be aware of some road restrictions.
ADOT is working on a $13 million safety and enhancement project at the intersection of SR 85 (Pima Street) and B-8 (Butterfield Trail Road).
The restrictions in place will limit traffic to one lane in each direction and may delay motorists making their way to San Diego or Rocky Point as well as Phoenix-bound travelers.
Drivers should allow extra travel time and plan ahead – see map for alternate routes. SR 85 travelers are advised to proceed through the project area with caution and pay close attention to signs and message boards.
To stay up-to-date with all the latest highway conditions around the state this holiday, visit az511.gov or call 511.
Have a happy and safe holiday!