I-10 closed near downtown Phoenix this weekend for APS power line project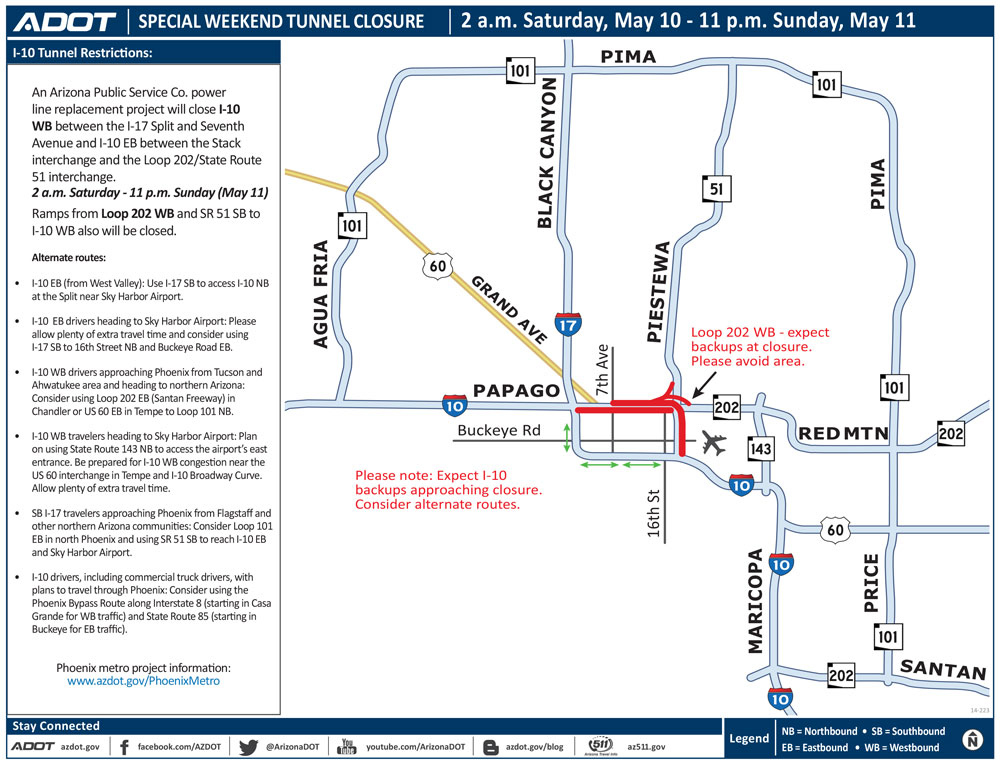 If you have any weekend travel plans in the downtown Phoenix area, you'll want to pay attention because we've got a major freeway closure to tell you about.
It's happening this Saturday and Sunday (May 10-11) and here's what you need to know…
Westbound I-10 will be closed between the I-17 Split near Phoenix Sky Harbor International Airport and Seventh Avenue, while eastbound I-10 will be closed between the I-17 Stack interchange and the Loop 202/State Route 51 interchange from 2 a.m. Saturday to 11 p.m. Sunday(May 11).
The westbound Loop 202 and southbound SR 51 ramps to westbound I-10 also will be closed.
Drivers, including those with travel plans in or out of Sky Harbor Airport, can expect heavy traffic congestion in areas approaching the I-10 closure. It's recommended that drivers plan ahead, allow plenty of extra travel time and use alternative routes if at all possible.
I-10 traffic will be detoured to Interstate 17 south and west of the downtown area, but heavy traffic delays can be expected.
Why is this closure happening?
The closure is required to allow crews working on the APS project to safely remove three older power lines and replace them with six new power lines in the area of the Seventh Street overpass. According to APS, the work will add a second circuit to the Seventh Street power-line system to meet higher electrical demands and ensure greater reliability in the Phoenix area.
The weekend of May 10-11 was selected for this closure to allow APS to get the necessary work done before much-hotter summer weather arrives and before electric power demand climbs this summer. The weekend also was chosen because the Arizona Diamondbacks will be playing out of town in Chicago.
While the APS power line work is underway, ADOT also will have crews conducting maintenance work in and near the I-10 Deck Park Tunnel.
What are the suggested possible alternate routes?
For eastbound I-10 drivers heading to downtown Phoenix from the West Valley: Consider exiting ahead of the I-10 closure and using eastbound surface streets.
For eastbound I-10 drivers heading to Sky Harbor Airport: Please allow plenty of extra travel time and consider using southbound I-17 to northbound 16th Street and eastbound Buckeye Road.
For westbound I-10 drivers approaching Phoenix from Tucson, Ahwatukee or the Southeast Valley: Consider detouring along eastbound Loop 202 (Santan Freeway) in Chandler or eastbound US 60 in Tempe to northbound Loop 101.
For westbound I-10 travelers heading to Sky Harbor Airport: Plan on using northbound State Route 143 to access the airport's east entrance. Be prepared for westbound I-10 congestion near the US 60 interchange in Tempe and I-10 Broadway Curve. Allow plenty of extra travel time.
For southbound I-17 travelers approaching Phoenix from Flagstaff and other northern Arizona communities: Consider detouring onto eastbound Loop 101 in north Phoenix and using southbound SR 51 to reach eastbound I-10 and Sky Harbor Airport.
For I-10 drivers, including commercial truck drivers, with plans to travel through Phoenix: Consider using the Phoenix Bypass Route along Interstate 8 (starting in Casa Grande for westbound traffic) and State Route 85 (starting in Buckeye for eastbound traffic).
As always, you can check in on the ADOT Twitter feed (@ArizonaDOT) for updated information about the scheduled May 10-11 closure. Information will also be available on the ADOT website (azdot.gov) and through our Traveler Information System (az511.gov or by calling 511 in Arizona).