Motorists can now go online to renew, replace permanent disability placards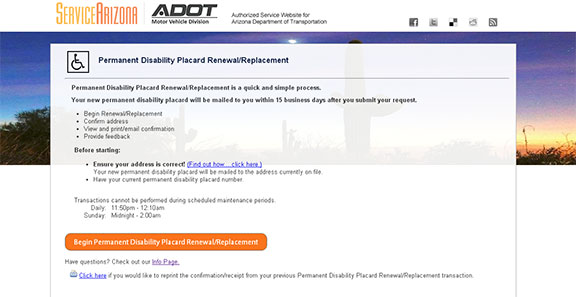 If you're one of the more than 430,000 Arizonans with a permanent disability placard, you'll be happy to know there is now an easier way to renew.
Motorists can renew or replace a permanent disability placard online at ServiceArizona.com. The option just became available for individuals and organizations in June. Before then, applicants were only able to renew in person at an MVD office or Authorized Third Party provider, or through the mail with a notarized statement accompanying the renewal application. Note: there is a separate application that requires a physician signature for first-time disability plate/placard applicants.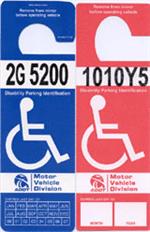 A permanent disability placard allows its holder to park in a space designated for disability parking. It's portable and can be placed in any vehicle the placard owner is driving or in which they are a passenger. It is required to be renewed every five years and is free of charge. Permanent disability placard holders are sent a notification when their placard is about to expire. If they choose to renew online, a new placard will be mailed to them within 15 business days after they submit the request.
The new option simplifies the process considerably…
"We just want to make sure we provide everyone with the best customer service and this is something that we can do to make things easier," said ServiceArizona Project Specialist Joann Griffin, adding that customer feedback has been extremely positive so far.
Find more information on disability placards and license plates, along with required medical certification details and application on our website.