New license, new process now in effect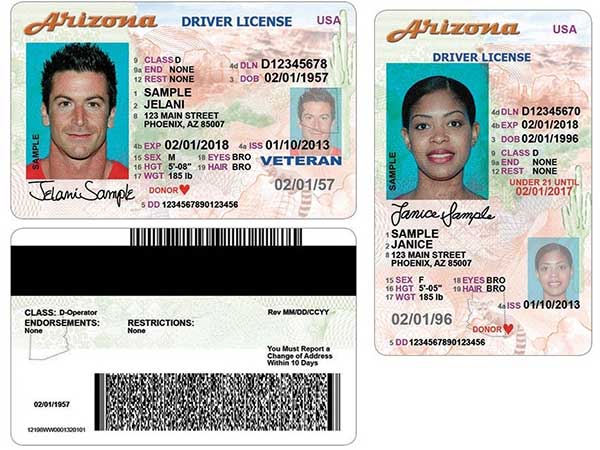 Starting today, Arizona driver licenses will have a brand new look – there's also a new process in place.
Both changes are designed to help protect against identity theft.
New Look
Check out the new design at right and notice several new security features, including:
A larger primary portrait with a smaller redundant "ghost" portrait ensuring your appearance is clearly reflected.
A high-security, design comprised of unique Arizona geological features in the background created through the use of Guilloché innovative symmetry. A Guilloché design involves techniques consisting of intricate, repetitive patterns that are interwoven to guard against counterfeiting, altering or other fraudulent use, making for a more secure credential.
A laser perforation in the shape of Arizona, which when held up to the light is used to quickly authenticate the credential.
Tactile date of birth field to assist in authenticating the credential using the sense of touch. The date in this field will have a raised feel to it.
Tri-color Optically Variable Device consisting of the state outline, the state name "Arizona," the state seal, a saguaro cactus and a star. This laminate overlay provides the final layer of the credential and provides one more feature for authentication.
New Process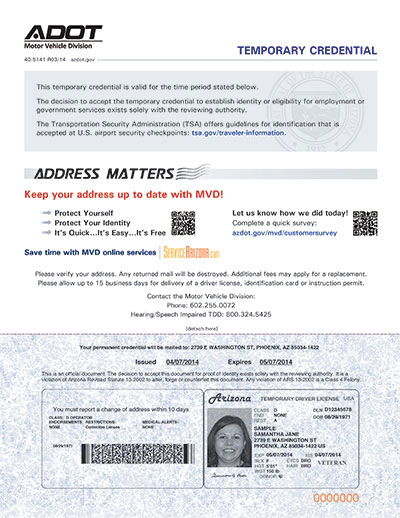 Customers, who visit a Motor Vehicle Division or Authorized Third Party office to get a new license or ID card, will leave with a temporary credential. The customer will receive the permanent license or ID card by mail within 15 days.
The temporary driver license or identification card contains a photo and the basic information that appears on the actual credential. As in other states that have moved to this process, the decision to accept the temporary credential as proof of identity exists solely with the organization requesting to see the license or identification card.
There's no need for you to rush out to get a new license! Your current driver license or identification card will remain valid until its expiration date – or at least until the 12-year mark when the photo needs to be refreshed.
Name that Ringtail
The ringtail, declared the state mammal in 1986, is illustrated on the front of the new credential. Earlier this month, we asked you to give us some name ideas for him (or her?). Everyone really came through – there were hundreds of submissions!
Stay tuned … we'll announce the ringtail's name next week.
For more information on the new license/new process, please visit the MVD website.