No state highway closures over Memorial Day weekend
Drivers urged to focus on safe driving – especially during busy travel times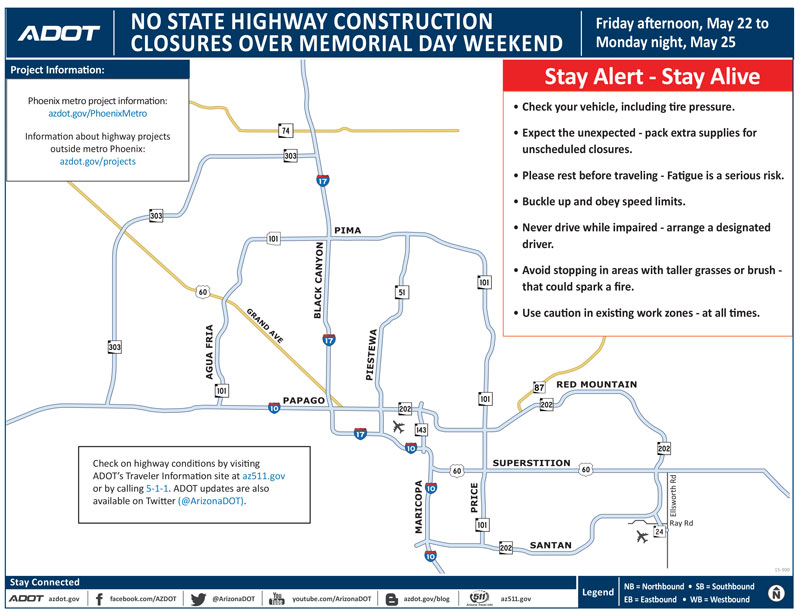 Good news! Drivers taking to the state's highways over Memorial Day weekend will not encounter any full closures for construction or maintenance work.
That's right … ADOT and its contractors are giving drivers a break from closures Friday afternoon through Monday night in an effort to support safe holiday weekend travel.
And speaking of safe holiday weekend travel, we have some tips to share with you. As part of the state's "Stay Alert – Stay Alive" safety campaign, drivers are urged to focus on the following safe-driving recommendations:
Check your vehicle, including the tire pressure.
Allow extra travel time and be prepared for unscheduled closures due to crashes, disabled vehicles or other incidents.
Get some rest before traveling – fatigue is a serious safety risk.
Never drive while impaired – arrange for a designated driver in advance.
Use caution in existing work zones.
Buckle up and obey speed limits.
Pack extra supplies, including drinking water and snack foods.
But wait, there's more!
We can't forget that wildfire season is upon us and while it's impossible to control the winds, heat or dry conditions that impact much of our state, we can all take some simple steps to stop fires from even starting…
ADOT, the National Park Service, U.S. Forest Service, Bureau of Land Management and area fire departments are joining for the "One Less Spark" campaign to remind drivers about wildfire prevention.
The campaign kicked off in California in 2012 and has expanded to the Southwest region.
The interagency coalition reminds drivers to be extra careful during wildfire season. Sparks from dragging trailer chains and unextinguished cigarettes can start a wildfire, especially during the hot, dry summer months.
Motorists and homeowners play an important role in preventing wildfires. The "One Less Spark One Less Wildfire" campaign provides wildfire prevention tips:
Do not park in tall grass as the heat from parts under your vehicle can start a fire.
Make sure nothing is hanging from underneath your vehicle and dragging on the asphalt.
Dragging chains from towing can cause sparks. Never substitute parts when towing.
Check tire pressure before you travel. Exposed wheel rims can cause sparks on the asphalt.
More information on wildfire prevention can be found on the Arizona Interagency Wildfire Prevention "One Less Spark One Less Wildfire" website.
Don't forget, you can always check on highway conditions by visiting ADOT's Travel Information site at az511.gov or by calling 511. Updates also are available on ADOT's Twitter feed (@ArizonaDOT).