Paving work on US 60 is winding down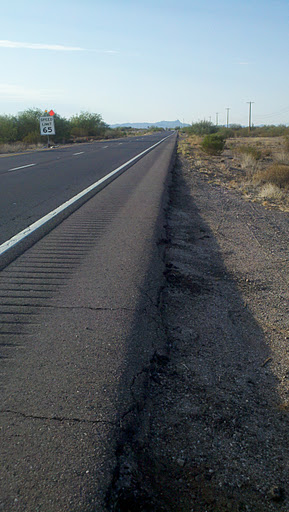 We write a lot about building new roads on this blog, but equally important is the maintenance of the state's existing highways – that's part of ADOT's job, too!
Maintaining what we have prevents the state's roads from deteriorating to a condition that would be unsafe and costly to repair.
A good example is currently under construction in Pinal County and close to completion. A 12-mile, four-lane stretch of US 60 is being repaved in the Gold Canyon area, east of Apache Junction (between Siphon Draw and State Route 79).
Work on this project started in July and consisted of milling and paving the roadway …
Basically, that means crews stripped several inches of old, worn pavement off the existing road and then placed new asphalt pavement on the roadway surface.
An interesting note on this project is that the old asphalt getting scraped away (millings) is being recycled and added into the new asphalt mixture. Recycling reduces the amount of asphalt needed for the new pavement.
As the old asphalt is removed, it is piled on the side of the roadway. Some of those millings are used to build up the shoulders of the road – the millings are spread at the edge of the pavement and are then compacted, which helps prevent erosion (see photo right).
The remaining millings are taken to a plant where they are screened for course aggregate and fine aggregate. A percentage of both is then incorporated into the new asphalt mixture and hauled back to the site to use on the roadway.
This stretch of US 60 also got a layer of rubberized asphalt added on top of that recycled base asphalt, which will help reduce noise.
Besides milling and paving, crews have been working on other improvements, including guardrail reconstruction, bridge repair, paving median crossovers, replacing pavement markings and other related items.
This project is unique, in that it includes all four entrances to the Gold Canyon community. There have been delays, but ADOT continues to work to shorten the length of construction and minimize delays to motorists and residents.
Those residents might be excited to hear that work is winding down! The project is entering its final weeks after an extended paving schedule recently was put into place to reduce the time commuters were subjected to major delays.
Over the next week or so crews will finish with the second layer of pavement and striping. One lane in each direction will be open through the work zone. When the paving is finished, there will be intermittent single lane closures as the guardrails are repaired or replaced and new signs are installed.
ADOT appreciates everyone's patience throughout this project!