Sharing the road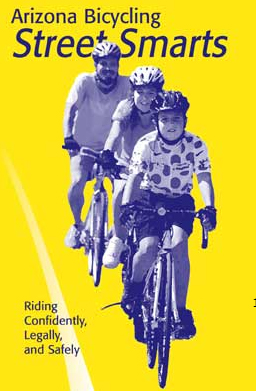 Of course, not all roads are open to pedestrians and bicyclists – pedestrians are prohibited from walking along all controlled-access highways. Bicyclists are permitted by ADOT policy to ride on the shoulders of controlled-access highways, except where prohibited. That means freeways and some segments of interstate highways are off-limits to bicyclists. Signs will be posted at on-ramps to indicate if bicyclists are not allowed. (Bicyclists and pedestrians should always remember to use reasonable caution when riding or walking near vehicle traffic.)
ADOT's Bicycle and Pedestrian Program tries to make it a little easier for everyone to share the streets. One of the primary ways it aims to do this is through education.
Just visit the Bicycle and Pedestrian Program website for a glimpse of the multimedia materials available to inform and educate bicyclists, pedestrians and motorists…
ADOT publishes a few great guides that simplify the rules. "Arizona Bicycling Street Smarts," "Sharing the Road with Pedestrians" and "Share the Road: A Guide for Bicyclists and Motorists" are available in print and online. They offer safety tips and information on the laws. (Did you know that the law states a motorist attempting to pass a bicyclist must give the bike and its rider at least three feet clearance?)
A bicycle user map also is available in print and online. It outlines the conditions of roads and highways in Arizona and offers information pertinent to bike riders.
Besides publishing educational materials, ADOT also studies and plans ways to accommodate walking and bicycling while improving safety, education and enforcement programs.
Check out the Statewide Bicycle and Pedestrian Plan. It serves to provide a long-term plan for a system of shared roadways and bicycle and pedestrian facilities for the ADOT State Highway System. It also guides ADOT in making transportation decisions, which impact bicycling and pedestrian activities.
An off-shoot of the statewide Bicycle and Pedestrian Plan is the Pedestrian Safety Action Plan, completed in June 2009, and a Bicycle Safety Action Plan, which currently is being worked on.
Both plans aim to identify improvements and strategies that will reduce the number of crashes, fatalities and injuries on the Arizona state highway system involving bicyclists and pedestrians.
Heading up some of the efforts listed above is ADOT's bicycle/pedestrian coordinator Michael Sanders .
Aside from planning and educating, Sanders works closely with designers to ensure pedestrians and bicyclists are accommodated on the roadways. He also assists officials from rural areas in creating pedestrian plans for their communities.
Sanders points to the economic impact pedestrians and bicyclists have on the state. Big rides and even tour groups that visit Arizona specifically for rides can mean money for Arizona businesses. Some rides in Arizona have nearly 9,000 participants. Since Arizona has locations around the state that offer good riding year round, it makes sense to offer a system that accommodates bikes and pedestrians, he said.
For more on ADOT's Bicycle Pedestrian Program, visit azbikeped.org.
Check back Friday for a post focused on the U.S. Bicycle Route System and potential routes through Arizona that will accommodate long-distance cyclists.