Traveling this Thanksgiving? Here's what you need to know...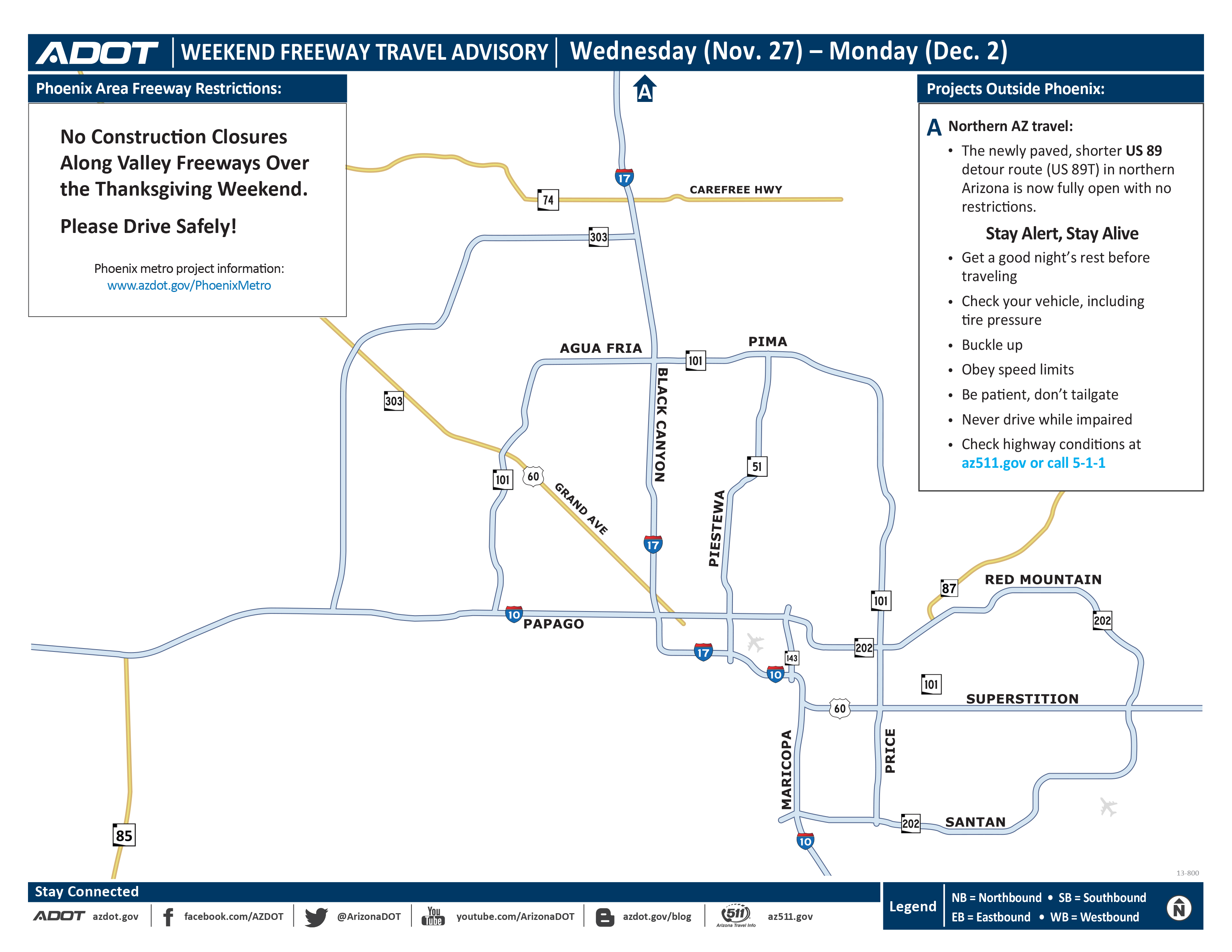 If you're taking a trip this Thanksgiving you can count yourself among the many (many) travelers who will be hitting the road for the holiday weekend.
Since it's traditionally such a busy time for the state's highways, we thought we'd share some travel info that'll help make your Turkey-Day trek a safe one.
We'll start with some good news…
ADOT will hold off on construction-related closures along state highways this holiday weekend. However, drivers should be prepared for unscheduled closures due to disabled vehicles or crashes.
Motorists can get the latest highway conditions by visiting az511.gov or by calling 511. You can also track closures and other highway conditions by following us on Twitter (@ArizonaDOT).
Stay Alert – Stay Alive
OK, so while there won't be any construction-related closures this long weekend, ADOT and a coalition of agencies, including the Arizona Department of Public Safety, the Governor's Office of Highway Safety and local fire departments, will still all be on alert in an effort to limit serious crashes and respond to incidents along the busy stretch of I-17 between Black Canyon City and Camp Verde.
I-17 north of the Phoenix area, one of the state's busiest highways during holiday weekends, will be the focus of a safe-driving campaign at the start and end of the extended Thanksgiving weekend.
By this afternoon, when holiday traffic picks up along northbound I-17, DPS officers will increase the agency's traffic enforcement efforts while also using freeway service patrol members to assist motorists in need of help. Officers will continue those efforts over the weekend, especially on Sunday when many holiday travelers are returning home.
Extra efforts to promote highway safety
ADOT will post safety and highway condition messages on its overhead message boards along I-17, position equipment that can be used to help clear the highway and have personnel ready to respond when incidents impact traffic. Portable electronic signs also will remind motorists to drive safely, with messages such as "Stay Alert, Stay Alive" and "Drive Hammered, Get Nailed." The signs also can display traffic information if necessary.
Wait, there's more…
While ADOT maintenance crews and essential staff will be working the holiday, ADOT and MVD offices will be closed Thursday, Nov. 28. Offices will reopen for normal business hours on Friday, Nov. 29.
Know Snow. If your travel plans are taking you up north, you might want to check out our Know Snow Web page, videos and blog posts. They're full of helpful driving tips and information on how to prepare for a snowy drive.
Speaking of snow, some highways are set to close for the winter season in the high country. Visit our website for more information and see if you'll need to amend any upcoming travel plans.
And, last but not least, we want to urge drivers to stay safe out there! Be sure that you obey speed limits, drive cautiously and be patient while on the road. Drivers also should get a good night's rest before heading out on a holiday weekend trip and check that their vehicles are in good working order. For example, maintaining the correct tire pressure can help prevent blowouts and increase gas mileage.