Warmer weather means it's time to check your tires
Kathy Cline/ADOT Communications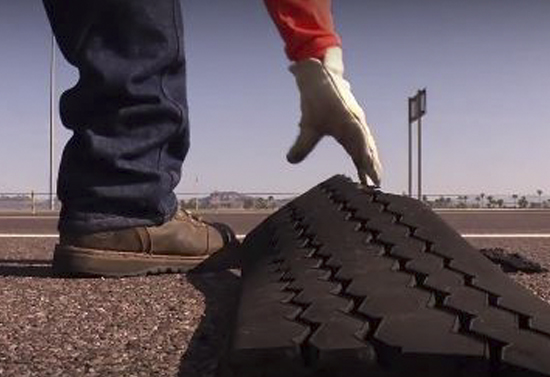 Scorching summer temperatures are coming, and that means it's time for your car's tire-pressure checkup.
That's because summer usually means a spike in tire blowouts. Hot pavement can cause tires to build pressure and overheat quickly, which can lead to failure. According to the National Highway Traffic Safety Administration, there are about 11,000 tire-related crashes that result in more than 700 deaths annually in the U.S.
But tire maintenance is about more than keeping you and your loved ones safe. Proper tire pressure also keeps everyone else on the road safe from "gators." That's the nickname for tire treads that wind up highways after tire blowouts.
Depending on how large the gator is – and where it is – it can be a real risk for other drivers and their vehicles. Even if other vehicles manage to avoid tire debris, it still is a danger. That's because a DPS trooper or an ADOT maintenance crew will have to go out and remove it from a busy highway.
SaferCar.gov offers these tips to keep your vehicle's tires in shape:
Inflate your tires according to the pressure specified in your vehicle's manual or the tire information label on the driver's side door edge.
Follow your car's maintenance guidelines and rotate tires as specified. Also, be sure tires are balanced and aligned correctly.
Check the tread on your tires. Tires should be replaced when tread is worn down to 2/32 of an inch.
Keep a tire pressure gauge in your glove box.
Also remember that keeping your tires in good shape is not only safer, it will save you money in the long run. Properly inflating tires improves fuel efficiency, providing as much as 11 cents more value per gallon.
And if you see tire debris on a state highway that could be a danger to your fellow motorists, make sure to call 911 to ensure someone can respond quickly to remove it.