Westbound I-10 down to one lane this weekend as crews do "tons" of work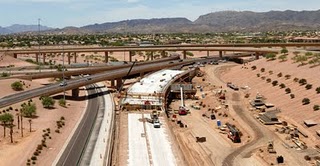 Heading into the Valley this weekend? Give yourself some extra travel time.
Westbound Interstate 10 into metro Phoenix will be narrowed to one lane between Wild Horse Pass and Chandler boulevards from 10 p.m. Friday to 9 p.m. Saturday (Aug. 5-6).
Heavy delays are possible (okay…heavy delays are likely!).
We're encouraging motorists to make their drive into the Valley before or after this uber-restriction or use an alternate route (suggested route at the end of this post).
At ADOT, we understand that this weekend's restrictions will be tough on drivers (we're drivers, too!). But as bothersome as they can be, restrictions are necessary to keep motorists and workers safe, especially when crews must do – literally – tons of work in a short period of time.
Crews this weekend will be working around the clock to shift the westbound I-10 travel lanes, which have been detoured since November, back to their original configuration.
This means moving 2 million pounds of temporary concrete barrier off the roadway. Each section of the solid-concrete barrier is 20 feet long and weighs five tons. At minimum this requires two forklifts, 16 people and 40 trucks.
When the barrier is removed, they'll reconfigure and stripe the travel lanes. It will take about 500 gallons of paint – enough to fill about 10 bathtubs – to get the job done.
While that work is underway, another crew will install 22 new overhead signs. As a motorist, you'll notice that the new signs are larger and easier to read. Work crews will notice that each of the aluminum signs weighs about 500 pounds. At 10 feet high and 18 feet wide, they're larger than refrigerators. Yet each one must be hoisted 17 feet in the air and carefully attached with foot-long mega bolts to sign structures that hover over the roadway.
By Saturday night, traffic conditions will be remarkably better.
So…if you happen to drive through the work zone, bear with us as our ADOT crews brave this heat so we can all enjoy a faster, safer commute through the Valley.
How to avoid the area:
If you're driving from southern Arizona or Tucson, use northbound State Route 587 (Casa Blanca Road). In the Chandler area, SR 587 is Arizona Avenue, and it will take you to the Loop 202 (Santan Freeway). From there, you can connect with the northbound Loop 101 (Price Freeway) and drive directly to the Scottsdale area, or meet up with westbound U.S. 60 (Superstition Freeway) and re-connect with westbound I-10 in Tempe.
In addition to the westbound I-10 restriction, expect closures of the ramps that link Loop 202 (Santan Freeway/Pecos Road) and I-10 near Ahwatukee, as well as the westbound I-10 Chandler Boulevard exit, from 10 p.m. Friday to 1 p.m. Saturday.