ADOT expands availability of ServiceArizona kiosks around the state
MVD offices in northern Arizona provide quick alternative for customer transactions
November 25, 2015
PHOENIX – The Arizona Department of Transportation's Motor Vehicle Division is placing more ServiceArizona kiosks at offices around the state to make it easier and faster for Arizonans to conduct motor vehicle transactions.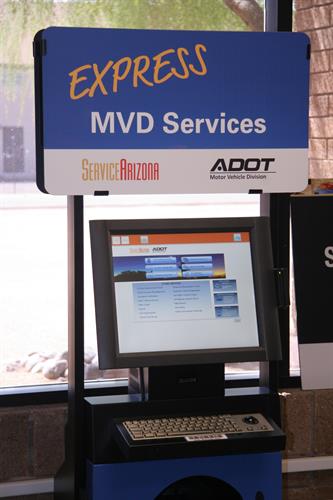 Motor Vehicle Division offices in Flagstaff, Cottonwood and Bullhead City recently received kiosks as part of an expansion in rural areas, and new kiosks installed at municipal courthouses in Surprise and Scottsdale earlier this year are to be followed with kiosks at even more courthouses.
The kiosks provide the same functionality and services motorists can get through the ServiceArizona website at ServiceArizona.com via computer or smartphone, including vehicle registration renewal, address changes and ordering specialty plates. In all, there are 39 kiosks around the state.
"MVD is driven to make it more convenient for Arizonans to conduct these vital transactions, whether it be from their computer, smartphone, a third-party provider or kiosks conveniently located around the state," Motor Vehicle Division Director Eric Jorgensen said.
In a Motor Vehicle Division office, a customer can sidestep the line and go right to a kiosk to conduct more than 20 different motor vehicle transactions. Collectively, the three new kiosks in Flagstaff, Cottonwood and Bullhead City average between 35 and 95 vehicle registration renewals a week.
Other motor vehicle services available through ServiceArizona.com and kiosks include ordering duplicate a driver license or ID card and obtaining your motor vehicle record.
Visit ServiceArizona.com for more information.