First restriction set for I-17 drainage project in Phoenix
Designed to limit potential street flooding beneath freeway
March 16, 2020
PHOENIX – The first closure for a major project to modernize an Interstate 17 regional storm drainage system in northwest Phoenix is scheduled to start Tuesday, March 17, according to the Arizona Department of Transportation.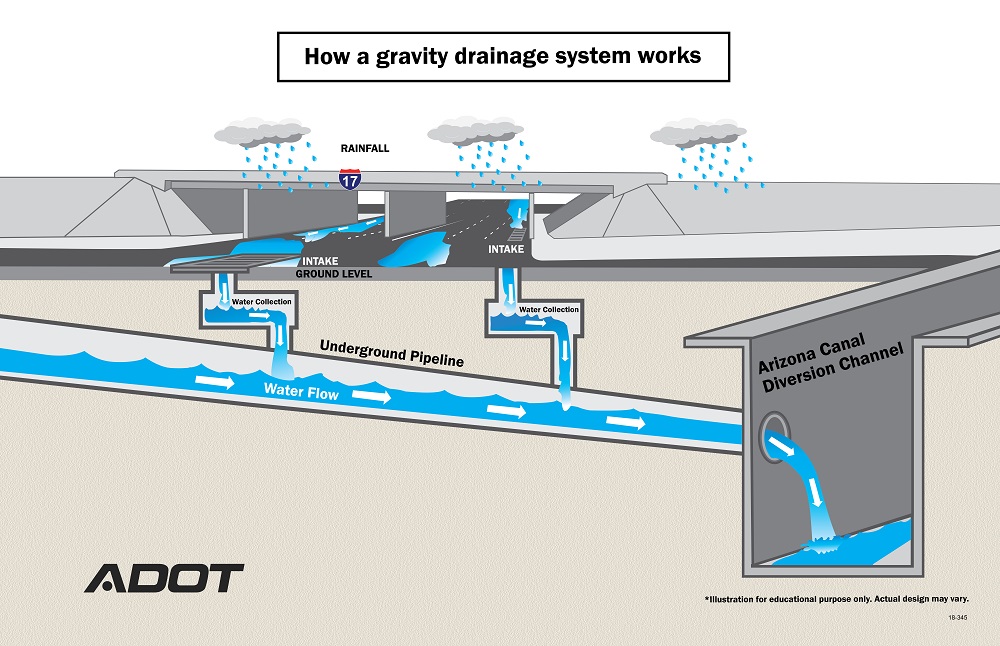 The southbound I-17 frontage road between Peoria and Dunlap avenues is expected to be closed for approximately four months starting by 6 a.m. Tuesday. Southbound I-17 on- and off-ramps in the area will remain open at this time.
The new gravity-controlled pipeline system between Dunlap Avenue and Greenway Road is designed to help limit the potential for cross-street flooding beneath I-17.
When completed, the improved system will replace outdated pump stations that aren't always able to keep up with storm runoff when heavier-than-normal rain falls.
ADOT will manage construction of the $38 million drainage system project on behalf of the Maricopa Association of Governments, the Valley's freeway planning agency that oversees the voter-approved Regional Transportation Plan.
The upgraded I-17 drainage system will include underground pipes positioned at angles to move storm water into the Arizona Canal Diversion Channel near Dunlap Avenue.
When the new system is operational, ADOT will be able to retire the old pump stations used to remove runoff at the I-17 interchanges between Peoria Avenue and Greenway Road. Most of those stations date back to the mid-1960s.
The new drainage system is scheduled for completion in fall 2021. The closure of the southbound I-17 frontage road between Peoria and Dunlap avenues is part of the project's initial construction phase.
Future around-the-clock closures of other sections of the north- or southbound I-17 frontage roads will be needed as the installation of pipelines advances. Drivers should plan on using alternate routes, including 19th and 35th avenues.
The project team will maintain access to homes and businesses while the frontage road closures are in place. If a section of frontage road is closed, alternate routes may include travel on local streets in the area.
Additional information about the project is available at azdot.gov/I17drainage.