Governor Brewer, Mesa officials help ADOT dedicate new Gateway Freeway during preview event
April 16, 2014
PHOENIX – The soon-to-be-opened Gateway Freeway project in Mesa was touted Tuesday as an example of a wise economic investment for the state and region.
The new one-mile stretch of freeway, also known as State Route 24, will connect the Loop 202 Santan Freeway with Ellsworth Road near Phoenix-Mesa Gateway Airport. A ribbon-cutting ceremony and public "open house" event were held on the freeway Tuesday afternoon. The Arizona Department of Transportation plans to complete construction and open the freeway to motorists early next month.
Governor Jan Brewer told an audience gathered on the freeway that improving the state's transportation system will be a key part of the "Arizona Comeback."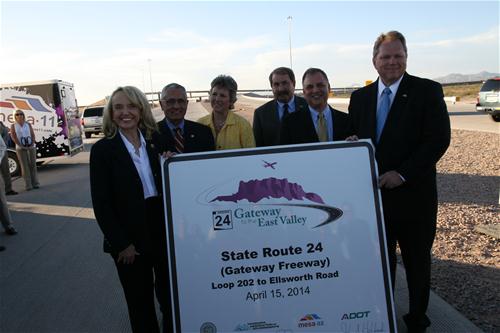 "Economic development is the foundation of a prosperous and livable community, and transportation infrastructure is central to that economic growth," said Governor Brewer.
The Governor noted that State Route 24 is set to serve a growing corridor that will bring thousands of well-paying jobs to the state, many of them in technology, aerospace and other skilled labor industries.
Mesa Mayor Scott Smith said the city made a smart decision to advance the new freeway's construction by several years through a transportation-bonding program.
"The Gateway Freeway project involved economic foresight," said Mayor Smith. "Our city's decision to accelerate the construction has saved taxpayers more than $100 million. An important stretch of freeway is now in place and will open up the area, which includes the new Apple plant, to additional economic opportunities."
The Arizona Department of Transportation and city of Mesa hosted Tuesday's event, which provided community members with a chance to walk, skate and ride bicycles on the freeway's pavement ahead of its scheduled opening in early May.
ADOT Director John Halikowski said future plans call for extending State Route 24 when regional and state funding is available.
"It will connect to the proposed North-South transportation corridor currently being planned in Pinal County," said Halikowski. "Ultimately, the freeway will link this region – its airport, businesses and communities – to the statewide highway system and what we call the Key Commerce Corridors. These are the routes that will help boost trade and job growth, ensuring Arizona's seat at the table of the global economy."