Loop 303 'Open House' gives local residents a closer look at soon-to-be-opened interchange with I-10 in West Valley
Governor Brewer, local leaders help ADOT dedicate freeway improvements
August 16, 2014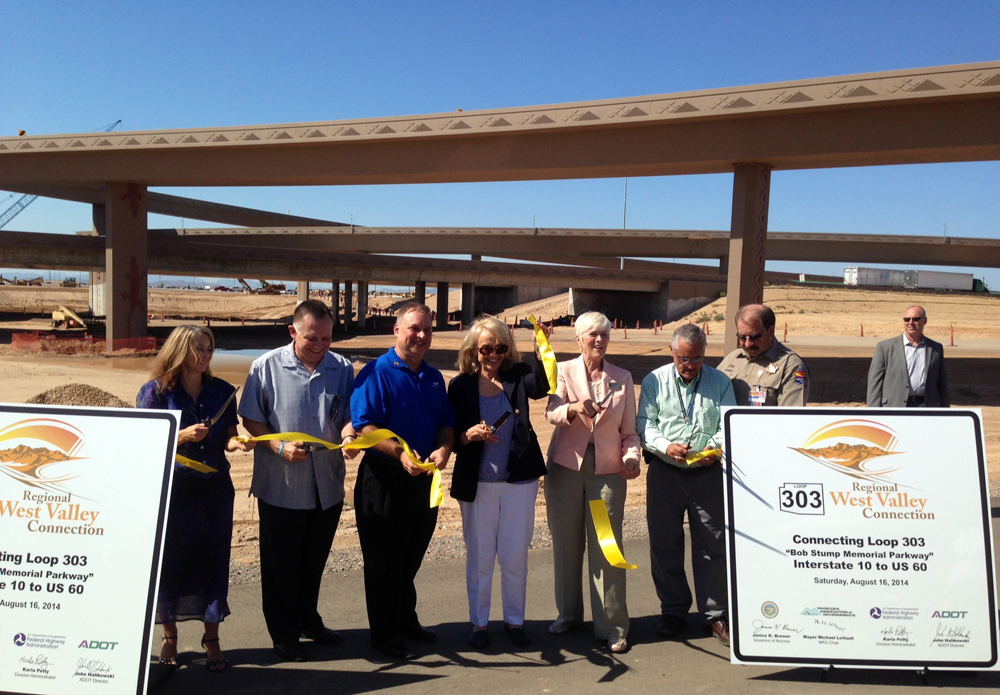 PHOENIX – Valley residents and other guests had a chance to walk, jog, bike and even skate this morning on part of the soon-to-be-opened Loop 303 interchange at Interstate 10 in the West Valley.
The Loop 303 "Open House" event was held in Goodyear on a section of the new I-10 frontage road that travels beneath two elevated ramps that will soon provide connections between the two freeways, according to the Arizona Department of Transportation.
Governor Jan Brewer took part in the celebration, and was joined by a group of Valley mayors, including Goodyear Mayor Georgia Lord, for a ribbon-cutting ceremony. The local leaders marked both the upcoming interchange completion, scheduled for September, and ADOT's recent series of projects to improve Loop 303 into a six-lane freeway between I-10 and Grand Avenue.
Before helping to cut the ribbon on Saturday, the Governor said the Loop 303 improvements promise to help drive the region's economy.
"I'm thrilled to be on my side of town today to celebrate Arizona's newest freeway completion," said the Governor. "It opens up our state to the growing communities in the West Valley – expanding commerce and easing travel throughout the region."
ADOT Director John Halikowski also noted how the improvements to the area's transportation system, including the $145 million Loop 303/I-10 interchange, will continue to create jobs.
"I can't overstate the importance of all the work that has gone into planning, designing and now building the Loop 303 into a freeway that improves business access over the coming decades," said Halikowski. "There's a vital link between transportation improvements and jobs created by nearby economic development projects."
When all four ramps connecting I-10 and Loop 303 are opened to traffic in the coming weeks, drivers for the first time will be able to travel along all 36 miles of Loop 303 between I-17 in north Phoenix and I-10 in Goodyear.
The Loop 303 projects are all part of the Maricopa Association of Governments' Regional Transportation Plan approved by county voters in 2004.