Loop 303 bridge work requires weekend closure of Grand Avenue in Surprise (July 10-13)
Traffic will primarily detour along Loop 303, Bell Road
July 6, 2015
PHOENIX – A weekend closure of Grand Avenue (US 60) near Loop 303 in Surprise will be in place Friday night until Monday morning while crews continue to build the new Loop 303 bridge over US 60, according to the Arizona Department of Transportation.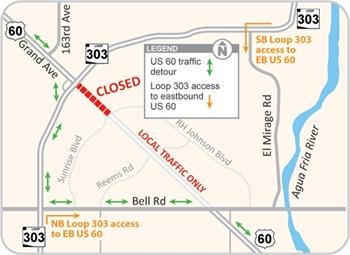 Grand Avenue will be closed between Loop 303 and R.H. Johnson Boulevard/Sunrise Boulevard from 9 p.m. Friday, July 10, to 5 a.m. Monday, July 13.
Grand Avenue traffic will primarily be detoured along Loop 303 and Bell Road while the weekend closure is in place.
Southbound Loop 303 drivers in the Peoria area also can connect with Grand Avenue via southbound El Mirage Road and westbound Bell Road.
Depending on their destination, drivers on southeast-bound US 60 can also consider additional detour routes including eastbound State Route 74 to southbound Lake Pleasant Parkway or southbound I-17.
Crews this weekend will be adding what is known as a false deck and other components of the new bridge. Fourteen steel-reinforced concrete girders were placed over Grand Avenue last month as part of ADOT's $46 million project to improve the interchange connecting Loop 303 and US 60 in Surprise. The project is scheduled for completion in summer 2016.
Another weekend closure of Grand Avenue is currently scheduled for the first weekend in August to allow concrete for the deck of the new Loop 303 bridge to be poured. When finished, the new bridge will carry northbound Loop 303 traffic. The existing parallel bridge will carry southbound Loop 303 traffic.