New specialty license plates now available
New plates include Arizona Coyotes, Midwestern University, U.S. Marine Corps, Firefighter Safety Training
August 24, 2015
PHOENIX – Four new specialty license plates to help personalize and customize your vehicle are now available for purchase from the Arizona Department of Transportation Motor Vehicle Division.
The new plate designs include Arizona Coyotes, Midwestern University, U.S. Marine Corps and Firefighter Safety Training.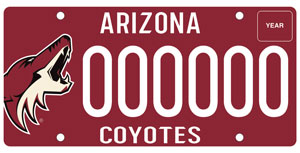 Like many of Arizona's specialty license plates, these four support specific charities. Funds raised by the Arizona Coyotes license plate will go to the Arizona Coyotes Foundation, which supports nonprofit organizations that serve children and service men and women with health care, education, cultural arts and youth sports in the state of Arizona.
"We are very excited that Coyotes license plates are finally available in Arizona," said Arizona Coyotes Co-Owner, President and CEO Anthony LeBlanc. "We hope our great fans purchase the Coyotes plates to show their support for our team and the Arizona Coyotes Foundation."
Funds raised by the Midwestern University license plate will go to support scholarships for students studying health sciences.
"Our student scholarship programs have always benefitted greatly from generous community support," said Midwestern University President and CEO Kathleen H. Goeppinger, Ph.D. "We are very grateful to both ADOT and to the legislature that we could create a new avenue to augment scholarship funds, and also allow our friends and family to show their pride in our wonderful university."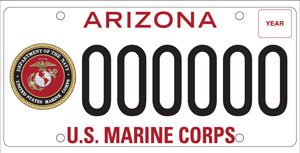 Funds for the U.S. Marine Corps license plate will be used to award scholarships to children of Marines and Navy Corpsmen killed or wounded in combat or those children who have demonstrated financial need. This plate is also available for motorcycles and golf carts.
"It's a real honor for me to be able to pay tribute to the Marines who serve our country so selflessly by helping to create this U.S. Marine Corps specialty license plate," said former Marine Corps Captain Ira M. Shapiro. "Proceeds from the license plate fee will flow to the Marine Corps Scholarship Foundation which helps us honor Marines and Navy Corpsmen by educating their children. The Scholarship Foundation is a tremendous organization that invests in our children and will improve our community for years to come."
Funds for the Firefighter Safety Training license plate will be used to provide scholarships for life safety training of firefighters in Arizona.
"The Arizona State Fire Training Committee appreciates both ADOT and our state legislative support to provide crucial life safety training to Arizona's rural firefighters," said Committee Member Randy Redmond.
In addition to these new specialty plates, the Classic Car license plate is now available for personalization.
Specialty license plates have an annual fee of $25 for a non-personalized plate and $50 for a personalized plate, with $17 going to support the charities. Vehicle owners can order the new plates online at ServiceArizona.com or at any MVD office or Authorized Third Party business.
The plates are also available with a disability symbol.
For more information, please visit azdot.gov/mvd.