Portable signs help drivers avoid I-17 work zone in Phoenix
Displays of travel times often support I-10 as quicker route
June 22, 2020
PHOENIX – To help drivers avoid delays approaching an Interstate 17 work zone south of downtown Phoenix, the Arizona Department of Transportation is using portable message signs that display travel times for the optional Interstate 10 route that can save commuters several minutes.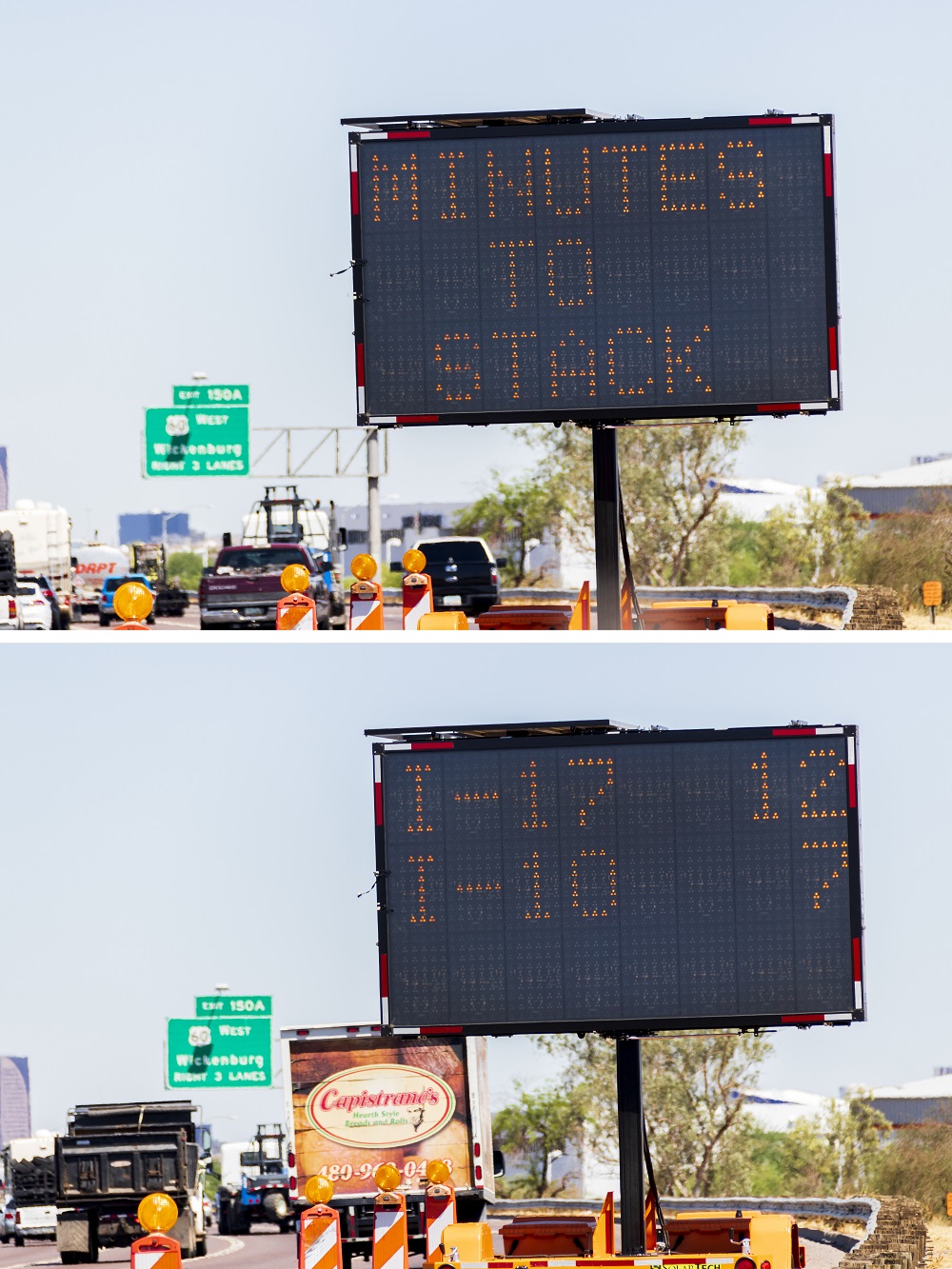 The electronic signs, located on trailers, show estimated travel times for I-17, where the freeway is narrowed for bridge reconstruction at Central Avenue, as well as travel times for I-10 between the "Stack" interchange and the "Split" near Phoenix Sky Harbor International Airport.
The I-10 detour route in the downtown area recently has been saving drivers at least 5 minutes compared to the stretch of I-17 where the bridge over Central Avenue is being reconstructed. I-17 traffic is limited to two lanes in each direction in that area.
Signs are located along westbound I-10 approaching the I-17 Split near the airport as well as along southbound I-17 and eastbound I-10 in areas approaching the Stack.
ADOT arranged for use of the electronic signs while planning for the $13.5 million bridge project at Central Avenue. Work to reconstruct the bridge started in May and is scheduled for completion in fall 2021.
The portable sign system uses traffic data to calculate the estimated travel times to predetermined destinations, much like on most permanent message boards along Valley freeways.
As part of the "Smart Work Zones" pilot project, portable message boards also have been placed in areas along I-10 approaching interchanges connecting to the new Loop 202 South Mountain Freeway. Those signs also provide drivers with estimated travel times for using either Loop 202 or I-10 through the downtown Phoenix region.