Phoenix International Raceway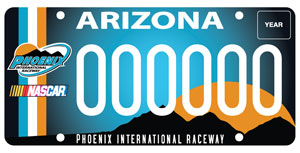 1 Plate Issued
$25 initial application fee/ $25 annual renewal. No special requirements. Available to everyone.
$17 goes to the Motorsports Charities to provide resources and charitable support for children through education, medical treatment, dream experiences and volunteerism.
May be ordered online. May be personalized with maximum of 6 characters.
Also available with a disability symbol.
Recipient:
Phoenix Raceway Charities