Should I Get a Travel ID?
The following are guidelines and there are exceptions. The final decision is yours.
Effective May 3, 2023, only the Arizona Travel ID (driver license or ID card), a U.S. passport and other federally approved identification will be accepted at TSA airport security checkpoints for domestic travel.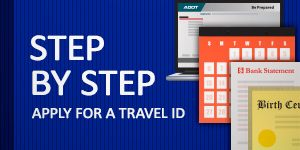 Worth considering?
If you're using your driver license or ID card at airport security checkpoints
If you're getting an Arizona Driver License or identification card for the first time
If you're renewing your current license
If you're getting a 12-year photo update to your current license
Not worth it?
If you furnish documentation other than your driver license or identification card at airport security or to gain access to secure facilities. A variety of documents other than a driver license are permissible at TSA checkpoints. For information on acceptable identification, please visit the TSA website.