MVD System Changes
MVD is making it easier for you to get license plates, registration tabs, and titles and other important documents. Customers will now get those items conveniently delivered to the home or office by U.S. Mail. Select a link below for more information.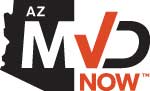 Central Fulfillment
Titles
Customers will no longer receive a title in an office. The official title form will be in the customer's AZ MVD Now account, available through www.servicearizona.com. Customers may also request a copy be mailed to them. Similarly, when customers pay off vehicle loans, they will receive a notice verifying the lien has been released and the title will be held electronically. Customers who want a printed title, may purchase one at AZ MVD Now through ServiceArizona.com.
License Plates
Metal license plates will no longer be issued in MVD or Authorized Third Party offices. Instead, customers will receive their actual license plate number printed on a special type of paper. The paper must be posted on the vehicle in the place of the metal license plate until the metal license plate is received in the mail. If the license plate is purchased online, the customer will be able to print a temporary license plate from home. This temporary license plate will be valid while the request is processed.
Placards
When a customer requests a disability placard, a printed document with the information will be provided for use temporarily until the placard arrives in the mail.
Registration Tabs
Registration tabs, including those for resident Off Highway Vehicles (OHV), will no longer be printed in MVD or Authorized Third Party offices. Customers will receive a receipt of the transaction, which serves as temporary proof of registration, and the tab will be sent in the mail. Law enforcement will be able to see registration status updates immediately.
Business Customers
Business customers will be able to sign up for an AZ MVD Now account. Currently, this is done by invitation-only, but will be extended to all business customers. Once established in AZ MVD Now, those customers will be able to manage their own vehicles, including fleets, without requiring a visit or call to MVD.
Business customers that currently interface with MVD through a ServiceArizona business suite will continue to do so through the ServiceArizona.com business suite.
Business customers that would like to establish an interface with MVD through the existing ServiceArizona.com business suite will need to establish an organizational account in the new system.
MVD will begin printing "PERM" directly on license plates in lieu of a removable tab.
Mobile Homes
Mobile home titles will be processed through a new system, separate from the MVD's primary system. In addition, mobile home titles will be issued through a centralized process. Customers will no longer receive a paper title in an office. The official title form will be mailed to the customer.
Motor Carrier
Interstate registrations will no longer have to be done all at once for Motor Carrier customers. Instead, owners will receive a renewal invitation for each vehicle.
Title and Registration
Note: Beginning in April, customers will receive license plates, registration tabs and vehicle titles through the U.S. Mail and will no longer be able to obtain them at an MVD or Authorized Third Party office. Customers should make sure their address is current and complete with the U.S. Postal Service and MVD.
Permits
Customers will only be able to obtain a three-day permit online if they and their vehicle are already in the MVD system. Otherwise, customers will need to obtain the permit from an MVD office or Authorized Third Party provider.
Sold Vehicle
If you sell your vehicle, you may request a vehicle registration credit through AZ MVD Now through ServiceArizona.com, if applicable. The credit will be applied to your AZ MVD Now account. You may use the money in the account on a future service in an MVD office or request a refund through AZ MVD Now.
Registration
A customer may obtain a replacement copy of their vehicle registration document online. If the customer registered their vehicle or renewed the vehicle's registration after the new system launches in April, then the registration may be re-printed at AZ MVD Now through ServiceArizona.com at no cost. If the customer registered their vehicle or renewed the vehicle's registration prior to that date, then the customer needs to request a replacement registration and tab from AZ MVD Now (for a fee).
AZ MVD Now FAQ
What is AZ MVD Now?
AZ MVD Now is the Motor Vehicle Division's new online platform. It's fast, easy, secure and personalized for you. Access your account online.
How does AZ MVD Now improve on current online options?
It's customized for you. Once you set up your account and log in you will see your information on your personalized home page. From there, you can easily conduct motor vehicle business
How much does AZ MVD Now cost?
The account is free. Charges for individual services are set by the State of Arizona. There are no additional fees for online services.