Last girder set for South Mountain Freeway interchange in west Phoenix
Nearly 200 large support beams installed for I-10/Loop 202 connection
May 1, 2019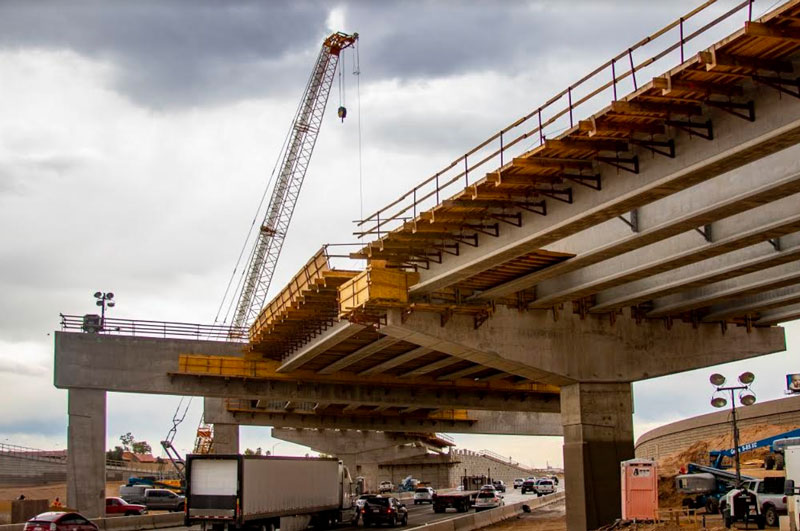 PHOENIX – Two years after construction began on an interchange connecting Interstate 10 and the Loop 202 South Mountain Freeway, crews have placed the final bridge girders needed for this huge Arizona Department of Transportation project in west Phoenix.
The milestone occurred over the weekend when Connect 202 Partners, the developer of the South Mountain Freeway, placed 21 concrete support beams, measuring up to 128 feet long and weighing 115,000 pounds apiece, for a flyover ramp that will carry HOV lanes.
To create the interchange's five flyover ramps, large cranes have set 186 bridge girders above I-10 during weekend closures. These ramps, which will carry traffic seamlessly between the freeways, range in length from 115 feet (westbound Loop 202 to eastbound I-10) to 1,565 feet (westbound Loop 202 to westbound I-10).
Building the 22-mile South Mountain Freeway requires placing approximately 1,000 girders, all of which have been manufactured locally.
While the final girders are in place for the interchange in west Phoenix, several overnight and weekend I-10 closures and traffic restrictions are still needed to complete some of the remaining work, including pouring bridge decks and installing barrier wall.
The South Mountain Freeway is scheduled for full completion in 2020, although traffic is expected to be using the freeway earlier. It will provide a long-planned direct link between the East Valley and West Valley and a much-needed alternative to I-10 through downtown Phoenix. Approved by Maricopa County voters in 1985 and again in 2004 as part of a comprehensive regional transportation plan, the South Mountain Freeway will complete the Loop 202 and Loop 101 freeway system in the Valley.
For information on the project, please visit SouthMountainFreeway.com.