Milton Road Corridor Master Plan
Overview
Milton Rd (aka SR 89A) is the primary roadway corridor within the heart of the City of Flagstaff, yet experiences severe traffic congestion during peak-hour traffic during weekdays as well as gridlock (bumper-to-bumper) traffic during winter weekends due to nearby snow play destinations. The purpose of the Milton Rd Corridor Master Plan is to identify a 20-year vision for the corridor by obtaining public and stakeholder input on alternative improvement strategies.
Project Area Map
The Milton Rd Corridor Master Plan starts at Forest Meadows St and continues on until Milton Rd turns into Route 66 (at Butler Ave), ending at Beaver St.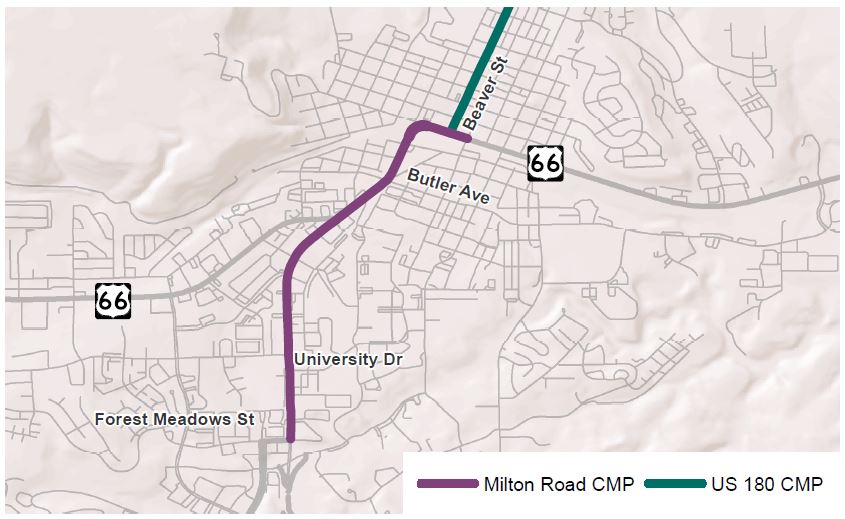 Public Meeting Notice
ADOT will host a public meeting regarding the Milton Road Corridor Master Plan on Thursday, May 10, 2018, from 6 to 8:00 p.m. at the Flagstaff High School Commons located at 400 W. Elm Avenue, Flagstaff, AZ 86001. A brief presentation will start shortly after 6:00 p.m. followed by an open-house setting that will allow participants to speak directly with ADOT representatives. The public is encouraged to attend and provide comments.
If you are unable to attend the meeting but would like to comment, you can submit comments in the following ways:
By email: [email protected]
In writing: Milton Road Corridor Master Plan, 206 S. 17th Avenue, MD310B, Phoenix, AZ 85007
Documents
The Milton Rd Corridor Master Plan is being conducted concurrently with the ADOT US 180 Corridor Master Plan and in collaboration with the Northern Arizona Intergovernmental Public Transportation Authority's (NAIPTA) on-going transit plans.
Contact Us
Please submit any questions or comments related to the Milton Road Corridor Master Plan to [email protected]mbakerintl.com.
Dan Gabiou
Project Manager
Arizona Department of Transportation
206 S. 17th Avenue, MD310B
Phoenix, AZ 85007
602.712.7025
If you would like to be notified via email when updates are issued, please subscribe for email updates.