Sonoran Corridor Tier 1 Environmental Impact Statement

Para traducir este sitio al español, use Google Translate localizado en la parte de abajo.
Study Overview
In May 2017, the Federal Highway Administration (FHWA), in coordination with the Arizona Department of Transportation (ADOT), issued the Notice of Intent that started the environmental review process for the Sonoran Corridor, a potential new corridor route that would connect Interstate 19 and Interstate 10 south of Tucson International Airport. A Tier 1 Environmental Impact Statement (EIS) is being prepared as part of this process in accordance with the National Environmental Policy Act (NEPA) and other regulatory requirements.
As part of the NEPA process, ADOT and the FHWA are engaging and involving stakeholder agencies, organizations, and members of the public throughout the study process.
What is a Tier 1 Environmental Impact Statement (EIS)?
In a Tier 1 EIS, an agency analyzes and documents the environmental impacts a program or project may have on a broad scale. A Corridor Selection Report (CSR) will be developed during the early stages of the Tier I EIS. The CSR is a technical document that assesses a wide range of corridor options through a robust evaluation process that uses environmental, geographical, topographical, socio-economic, agency and public input, and other planning information to help identify opportunities and constraints. The purpose of a CSR is to document the universe of corridor options considered and help identify a reasonable range of Build alternatives that will be carried forward in the Tier 1 EIS document for further analyses.
After a reasonable range of Build alternatives is identified, the potential social, economic, and natural environmental impacts of the No-Build Alternative (the do-nothing option) and Build alternatives will be analyzed and documented in the Tier 1 EIS. Each Build alternative is expected to be 2,000 feet in width. If one of the build alternatives is selected as the Preferred Corridor Alternative, a phased implementation plan will be developed and documented in the Draft Tier 1 EIS. A phased implementation plan includes smaller segments of the Preferred Corridor Alternative, also known as Sections of Independent Utility (SIU). The SIU may advance as separate, independent projects following completion of the Tier 1 EIS process.
In conclusion, FHWA will issue a final decision document that combines both the Final Tier 1 EIS and Record of Decision, and will identify the Selected Corridor Alternative and commitments that will be in mitigation for any potential environmental impacts.
What are the next steps after completion of the Tier 1 EIS process?
The Tier 1 EIS will provide a roadmap for advancing the project to the next phase – called Tier 2 environmental studies. During the Tier 2 environmental process, ADOT and FHWA will conduct additional environmental and engineering studies that examines each SIU within the Selected Corridor Alternative, in greater detail.
Following several years of study, technical analysis and input from communities and stakeholders, the Arizona Department of Transportation has selected a final 20.47 mile corridor through Pima County. The Final Tier 1 Environmental Impact Statement (EIS) and Record of Decision (ROD), which was released today, November 5, identifies the selected corridor as Corridor Alternative 7, which stretches between Interstate 19 (I-19) and Interstate 10 (I-10), south of the Tucson International Airport in Pima County.
Sonoran Corridor Preferred Corridor Alternative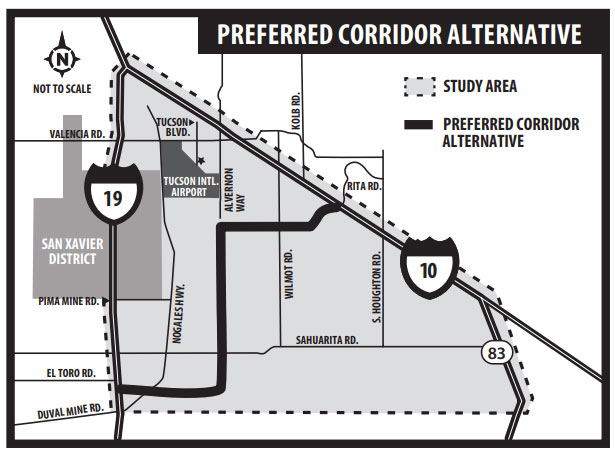 Schedules are subject to change based on weather and other unforeseen factors. Subscribe to receive project updates and traffic alerts by email. For more information, please call the ADOT Bilingual Project Information Line at 855.712.8530 or submit a question or comment by email. For real-time highway conditions statewide, visit ADOT's Traveler Information Site at www.az511.gov, follow ADOT on Twitter (@ArizonaDOT) or call 511, except while driving.