Willcox Circulation Study
The Arizona Department of Transportation and the City of Willcox have initiated a study to identify and evaluate issues related to freight traffic in Willcox and its effect on traffic circulation in the city.
Key elements of the study are to: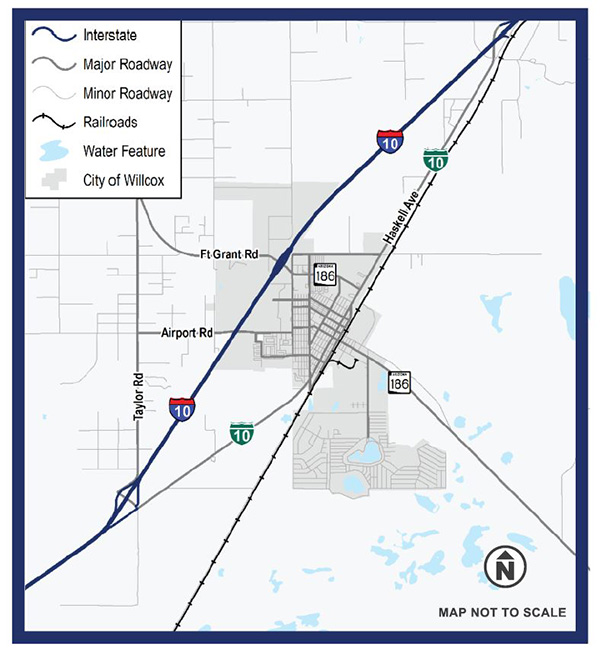 Collect and analyze data related to transportation and demographics to identify deficiencies in the existing roadway system
Assess safety and quality of life issues resulting from heavy truck traffic in Willcox
Identify potential alternative heavy truck routes aimed at addressing deficiencies
Prepare an environmental overview of existing and potential truck routes
Involve the public to provide input to be used to evaluate and refine truck route alternatives in addition to technical analyses
Select a preferred alternative that best serves freight operators and the residents of Willcox and the surrounding area
Prepare a final report documenting next step in the planning process
Project Purpose
A majority of the current and anticipated freight generators surrounding Willcox are located on the southeast side of the city, along State Route 186. Currently, the only way for heavy trucks to access Interstate 10 is by passing through downtown Willcox, creating congestion and slowing the movement of freight. Identifying an alternative route will make delivery of freight more efficient and improve the quality of life for residents.
Anticipated Timeline
January 2021 – May 2021 – Data collection and analysis, environmental overview
May 2021 – August 2021 – Evaluate potential truck route solutions
August 2021 – November 2021 – Plan and scope for preferred alternative
November 2021 – January 2022 – Draft and submit Final Report