You can help ADOT win national award by voting daily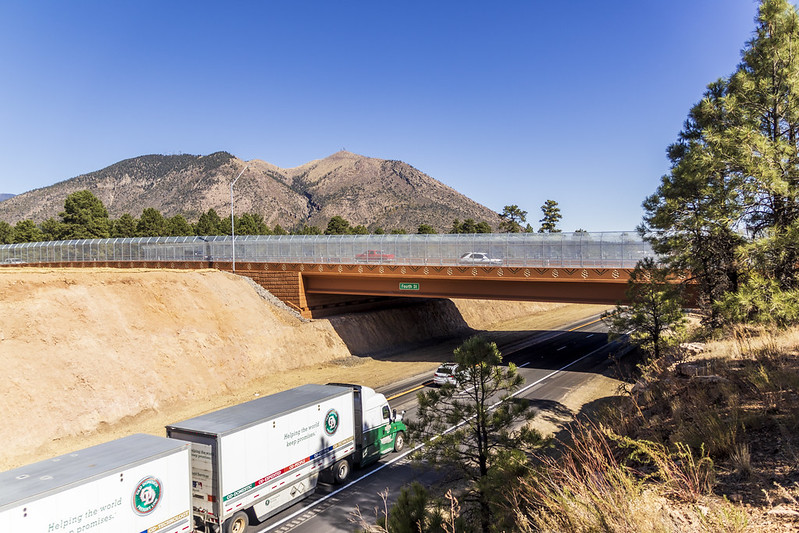 The Fourth Street Bridge replacement project in Flagstaff has been selected as one of the Top 12 finalists in the national America's Transportation Awards competition. This project, which has enhanced mobility in the area, used an innovative method to construct a new bridge and then "slide" it into place of the old one. This method cut construction time by an estimated two months and saved millions of dollars in costs. View a time-lapse video of crews moving the new bridge into place.
The American Association of State Highway and Transportation Officials (AASHTO) announced the $13.9 million Fourth Street Bridge has advanced to compete for two top awards recognizing projects that make travel in the U.S. safer, better and more accessible to motorists, bicyclists and pedestrians.
The Fourth Street Bridge project certainly fits the bill as it has increased mobility for vehicles through additional lanes and includes a pedestrian and bicyclist path protected by a barricade. The path provides a safe route to school for students of nearby Northland Preparatory Academy. It also connects the Flagstaff Urban Trail System across I-40.
The project is among the 12 finalists competing for two separate awards - the Grand Prize and the People's Choice Award. Both awards come with a $10,000 prize for a charity or transportation-related scholarship of the winner's choosing.
While the Grand Prize is determined by a panel of independent industry experts, the People's Choice Award is determined by popular vote.
This means you can help the Fourth Street Bridge project win! Cast your vote daily through 11:59 p.m. ET on October 25.