Applying for Title and Registration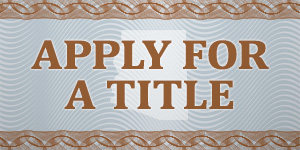 View more information on titles
Most vehicles may be registered for one, two, or five years, depending on emissions requirements. Permanent registration may be available for some trailers.
In addition to other fees, vehicle owners in Arizona pay a Vehicle License Tax (VLT), assessed in place of a personal property tax charged by some other states. The VLT is distributed to the State Highway User Revenue Fund, State Highway Fund, State General Fund (for school financial assistance), County General Fund, to the counties for the same use as the State Highway User Revenue Fund and to the incorporated cities and towns for transportation, maintenance and improvements.
Plate and Fee to Owner
Arizona law provides that a license plate is assigned to the vehicle owner, not the vehicle.
Keep the plate with the owner when the vehicle is sold.
Get credit for remaining fees.
Transfer the plate and fees to another vehicle (with an expired registration).
Credit reduces each month not used.
Be Prepared for your Visit
See Also: