Careers with ADOT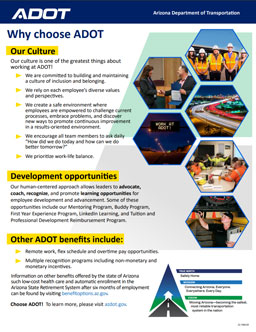 Why Choose ADOT?
READ MORE about our culture, development opportunities, and more!
A Note from the Director
Transportation touches everyone who lives, works and plays in our state. As an ADOT employee, you will have a role in providing Arizona with a superior transportation system that meets today's needs and tomorrow's challenges.
ADOT embraces a culture in which every employee has the opportunity to be a leader upholding our values of accountability, integrity and respect. I invite you to look through the employment opportunities we have available. It would be my pleasure to welcome you to our team one day.