Online Services
Fast, secure and personalized for you.
Here's what you can do with your AZ MVD Now account:
Schedule your own in-office MVD appointments.
View information related to your credential and vehicle.
Complete more than 30 services at your own convenience. See the full list below!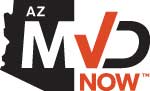 Vehicle Registration Services
Registration Renewal
Update Address & Contact Info
Registration Replacement with Decal
Registration Refund
Sold Notice-Submit
Disability Placard Replacement
Motor Vehicle Record
Vehicle Fees/Taxes Paid
Emissions
30-Day General Use Permit
Restricted 3-Day Permit
Fleet Management
Off-Highway Decals
Title Services
Check Vehicle Title Status
eTitle Transfer
Title Replacement
Driver License & ID Services
Driver License Application
Driver License Replacement
Permit Test @ Home
Identification Card Application
Identification Card Replacement
Commercial Driver License Application
Commercial Driver License Replacement
CDL Medical Status Verification
Driver License Record
Other AZ MVD Now Services
Manage Insurance
Manage Compliance Issues
Watch Your Car
Prepaid Voucher
Voter Registration
Update Official MVD Information
ServiceArizona offers the following online MVD services.

Vehicle Registration Renewal
View Personalized/Specialty Plates
Motor Vehicle Record
Restricted Use 3-Day Permit
Voter Registration
Other MVD Online Services