Data Analytics
The Data Analytics sections are responsible for reporting, maintaining, collecting and analyzing data for all roadways in Arizona. This program is also responsible for the Highway Performance Monitoring System (HPMS) submittal and the All Roads Linear Referenced Data (ARNOLD). HPMS is a report due to the Federal Highway Administration (FHWA) each year that encompasses various components of the road network. This group also provides maps and data requests for ADOT and local agencies. The program also provides many different visualizations of this data.
If you have any questions or requests regarding functional Classification, please contact Sage Donaldson or James Meyer.
Story Maps
Bridge

Bridge Inventory
---
HPMS - Highway Performance Monitoring System
---
Pavement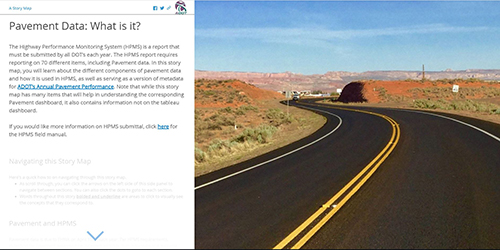 Pavement Data: What is it?
---
Traffic
---
Other