Outreach - SASP Update
The key purpose of the SASP Update is to ensure Arizona's airports meet the needs of all airport users. The best way for ADOT to understand how the system is performing in light of the evolving conditions affecting aviation is for stakeholders and members of the public to get involved.
Public Comments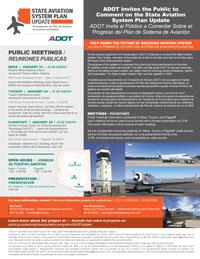 Members of the public are invited to provide input that could help shape the future of the state aviation system. As part of the public involvement process, three public meetings were held in January 2018 in Mesa, Tucson, and Phoenix. The meeting materials are posted here:
Individuals are still able to provide their comments by contacting Project Manager Pam Keidel-Adams from Kimley-Horn by email or by calling 480.207.2670.
Project Advisory Committee
The SASP Update is guided by a Project Advisory Committee (PAC) assembled by ADOT Aeronautics at the beginning of the study. The PAC comprises aviation stakeholders from across the state with a broad range of knowledge and experience in airports, aviation, and other statewide issues impacting the state aviation system. PAC meetings are being held through the course of the study to help guide the development of the SASP Update. To ensure transparency with the public, PAC meeting information and materials are posted here.