To lead ADOT's continuous improvement, director tries out different jobs
'Gemba Walks' help agency's leaders, employees identify opportunities
October 3, 2016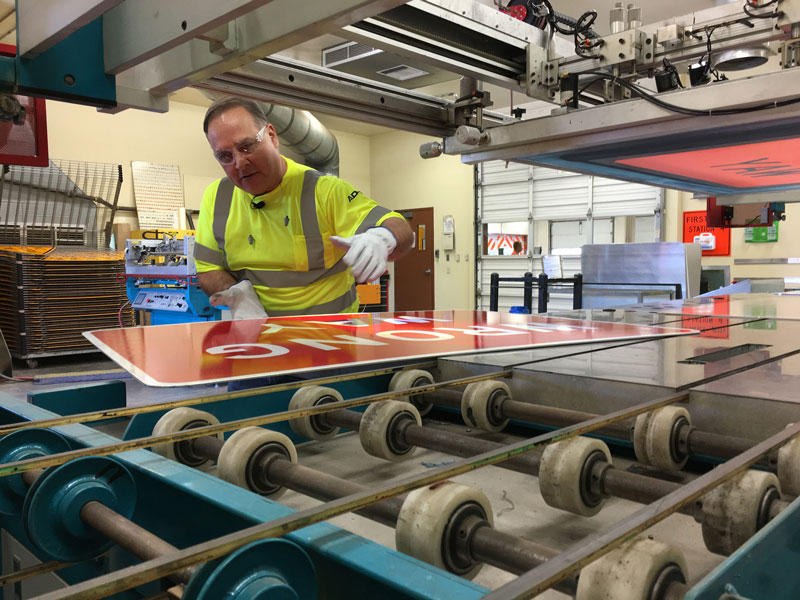 PHOENIX ‒ Leave it to the new person to mess up the first time he tries applying reflective vinyl to make a road sign.
It seems so simple as he approaches the sign-making machine: Just slide a piece of polished aluminum under a roll of vinyl, press a pedal to start applying and …
Jam.
"What did I do?" he says as his understanding supervisor swoops in to free the metal, cut through the bunched-up vinyl and clear the machine for another try.
Rookie mistake. The new person tapped the pedal too early, and this particular sign is history.
It turns out that mistakes are common as new hires learn the ropes in the Arizona Department of Transportation's sign shop. That's just one of the lessons ADOT Director John Halikowski will take away from his time today making and then installing road signs.
The sign operation may not have been as efficient as usual with the agency's director temporarily on the team, but the visit will pay dividends for ADOT as a whole. This is a Gemba Walk, a continuous-improvement technique whose name comes from a Japanese term meaning going where work is done.
Gemba Walks allow leaders to not only better understand how work is performed but make employees part of examining roles and processes. Answering Governor Doug Ducey's call for agencies to continuously improve their value to the state, this is something all ADOT leaders do, starting with the person atop the organizational chart.
After mastering the art of applying reflective vinyl, Halikowski learned how to apply red vinyl to turn his creation into a wrong-way sign. Then it was off to Interstate 10 and Avondale Boulevard with a crew to install larger wrong-way signs at that interchange.
Halikowski's work in this phase of the Gemba Walk included placing traffic cones for safety and helping remove and hang signs. Describing the day as hot would be an understatement, and the director, clad in reflective garb and a hard hat, left with a greater appreciation of both sides of the sign operation and those who do the work.
"It was very different from what I normally do," Halikowski said. "Everybody's job is important and has meaning. I don't care where you sit at ADOT, you contribute."
His experience is now a video allowing all of ADOT to share in this Gemba Walk, with Halikowski interviewing employees and sharing what he learned, mistakes and all.
Looking at the camera as he ends his time with the sign crew along I-10, Halikowski offers some quick takeaways, starting with the importance of teamwork.
"You have to work together, you have to respect each other," Halikowski says. "And you've really got to look out for your surroundings and safety."
As part of its commitment to continuous improvement, ADOT is working to lower wait times at Motor Vehicle Division offices, reduce congestion on Phoenix-area freeways and increase the percentage of construction projects delivered on time, among other agency-wide goals. But every process in every department is part of this effort, and better understanding and analyzing the nature of work performed is essential for improvement to happen.
His day with ADOT's sign operation was first of what will be many Gemba Walks for Halikowski, who says he hopes to instill the idea that no improvement is too small to make.
"People think of continuous improvement as this big thing, but most of these important improvements are easy to do in the workplace," Halikowski said.