Structures acquired for South Mountain Freeway provide invaluable training
First responders from more than a dozen agencies have benefited
August 11, 2016
PHOENIX – Because of structures the Arizona Department of Transportation has acquired in the future path of the South Mountain Freeway, probationary firefighters with the Rural/Metro Fire Department were able to practice what's known as a mayday scenario, wearing blacked-out masks to simulate being trapped in a building filled with smoke.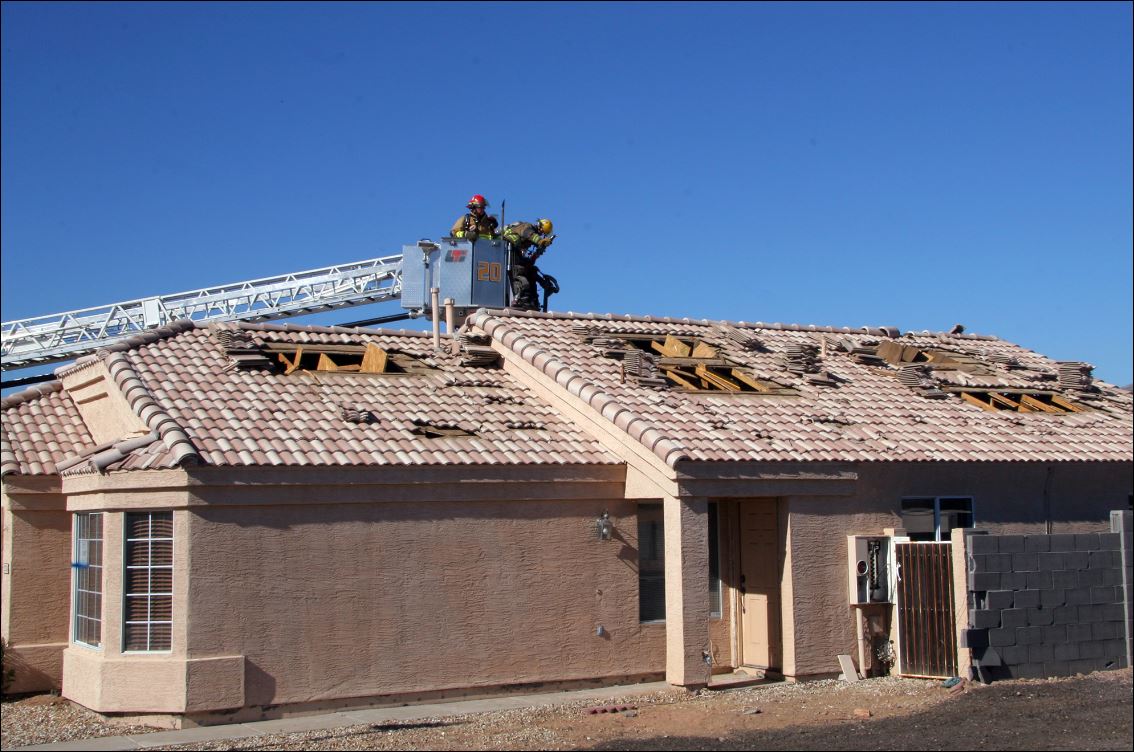 At a former hotel, SWAT teams from various law enforcement agencies practiced responding to hostage situations. At homes scheduled to be removed, Phoenix firefighters learned how to cut through roofs to provide ventilation during fires.
In advance of Loop 202 South Mountain Freeway construction, ADOT has continued a tradition of working with first responders to provide real-world training opportunities using the controlled environment of vacant structures. Since last year, more than a dozen agencies have been able to train scores of personnel.
The Phoenix Fire Department was able to send 48 ladder companies as well as every recruit for rooftop-ventilation exercises.
"For the recruits, it is the opportunity to practice this critical skill prior to an actual event at 3 a.m., in the dark, or whenever the call may originate," Deputy Fire Chief Kevin Riley said. "The amount of training we were able to do was invaluable to our department."
The Rural/Metro Fire Department held training in three homes. One presented a scenario in which crawling trainees who are unable to see through their air masks have a chain-link metal structure drop on them to simulate being trapped by a falling roof. This mayday drill forced them to communicate, work through the problem and breach a wall to get out.
"There is no question that the job these firefighters do is dangerous," said Shawn Gilleland, a Rural/Metro Fire Department public information officer. "Partnering with ADOT, we are able to provide real world training in a very controlled environment."
ADOT has acquired nearly 200 properties since receiving federal approval to move forward with the Loop 202 South Mountain Freeway. Using the structures for training before they are removed involves no expense for ADOT or the training agencies, other than a training agency needing to secure insurance beforehand.
"As a public safety agency, ADOT works hand in hand with police officers, firefighters and other first responders every day," said Brian Rockwell, ADOT assistant chief right of way agent. "Much like the general public, we appreciate their life-saving efforts and were more than glad to be able to assist when we were approached by several agencies. The exercises provide valuable training that they might not have had otherwise and, in turn, are a tremendous benefit those these agencies serve."
This training collaboration with Valley first responders dates back to the 1990s and has been used during construction on State Route 51 (Piestewa Freeway) and the Loop 202 (Red Mountain Freeway) segment between 24th Street and the Loop 101 (Pima Freeway) interchange.
Prior to any training, structures that will be used must have been tested and abated for asbestos. Depending on the nature of the training and the location of the structures being used, neighboring properties are advised by the agency involved several days in advance.
The South Mountain Freeway, which will run east and west along Pecos Road, and north and south near 59th Avenue, will connect with Interstate 10 at each end. When opened to traffic by late 2019, it will complete the Loop 101 and Loop 202 systems, create a long-planned direct link between the East Valley and West Valley, and provide an alternative to I-10 through downtown Phoenix.
With construction scheduled to begin later this summer, ADOT is conducting preliminary engineering, addressing cultural resources in the right of way, acquiring and preparing properties, and relocating utilities.
For more information, visit azdot.gov/SouthMountainFreeway and watch an ADOT video showcasing training opportunities with the Phoenix Fire Department and Rural/Metro Fire Department.