Songs of summer: ADOT's dust storm playlist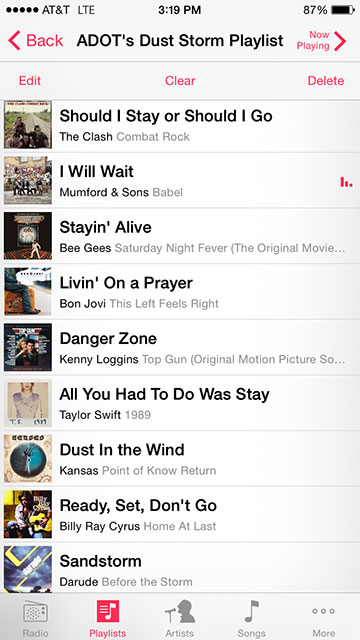 By Doug Pacey
ADOT Office of Public Information
Monsoon season is upon Arizona. The powerful, ear-splitting thunderstorms don't always arrive alone, though. Sometimes, they're preceded by towering, blackout-inducing dust storms, also known as "haboobs."
Dust storms can be extremely dangerous for motorists and the Arizona Department of Transportation is serious about dust storm safety.
ADOT's "Pull Aside, Stay Alive" dust storm awareness campaign urges motorists to avoid driving into a dust storm. If a dust storm is in the far-off distance, do not drive toward it. If it is immediately ahead, slow down, pull off the highway as far as possible, turn off all vehicle lights (including emergency flashers and brake lights so other vehicles do not follow) and wait until the storm passes.
We want this information to stay with you, especially when you're in your vehicle. So, we created a dust storm playlist. Load it onto your smartphone, stream it on Spotify, upload it to the cloud or burn a CD – people still do that, right? – then crank up your car stereo and rock out to the not-so-underlying musical messages of dust storm safety.
ADOT's Dust Storm Playlist
1. "Should I Stay or Should I Go?" – The Clash
When it comes to dust storms, always stay and never go.
2. "I Will Wait" – Mumford & Sons
Actual lyrics:
These days of dust
Which we've known
Will blow away with this new sun
So, be like Mumford and wait.
3. "Stayin' Alive" – Bee Gees
In our hearts, we believe Barry, Robin and Maurice Gibb pulled aside to write "Stayin' Alive."
4. "Livin' on a Prayer" – Bon Jovi
So what if you're "halfway there?" Drive into a haboob and you will be livin' on a prayer.
5. "Danger Zone" – Kenny Loggins
You want to take the highway to the danger zone? That's a negative, Ghost Rider.
6. "All You had to do was Stay" – Taylor Swift
Stay put. Seriously, that's all you have to do.
7. "Dust in the Wind" – Kansas
It's mandatory for a song about dust to be included in a dust storm playlist, right?
8. "Ready, Set, Don't Go" – Billy Ray Cyrus
Our achy, breaky heart will shatter if you don't heed our "Pull Aside, Stay Alive" advice.
9. "Sandstorm" – Darude
Resist the urge to crack open the glow sticks from your vehicle's emergency kit – remember, no lights! – when listening to this awesomely titled Finnish trance music.
Bonus Track
10. "Sasquatch" – The Winebottles
You never know where Bigfoot might pop up.
The official National Weather Service Arizona monsoon period, which runs June 15 to September 30, brings a variety of travel concerns in addition to dust storms, including flash flooding, rain-slicked roads and high winds. When adverse weather conditions are present, ADOT urges motorists to drive with caution or delay travel. For more information, please visit ADOT's Transportation Safety page.