Southern Navajo and Apache County Transportation Study
The Arizona Department of Transportation (ADOT), through the Planning Assistance for Rural Areas (PARA) program, awarded funding for the Southern Navajo and Apache County Transportation Study. The major product of the new plan will be a final report that contains recommendations over five-, 10- and 20-year periods.
In 2007, regional growth led to the need for an updated plan to address infrastructure deficiencies and transportation needs within the White Mountain region. The Southern Navajo County/Apache County Sub-Regional Transportation Plan was completed that specifically addressed transportation issues of each participating community that included the Town of Snowflake, Town of Taylor, City of Show Low, Town of Pinetop-Lakeside and the unincorporated areas of southern Navajo and Apache Counties, including the communities of Concho and Vernon.
This plan update is needed due to the surge in population growth and economic development that is placing a huge burden on the existing infrastructure. The White Mountain communities are experiencing robust business development and employment growth and continue to remain a popular destination for both winter and summer recreational visitors. While economic growth is vital to northeast Arizona, it is having significant impact on the condition of their roadways that hamper the safe and efficient movement of traffic through the region.
Study Objectives
Objectives for the Southern Navajo and Apache County Transportation Study are:
Review current and future conditions within the study area. Document known major future developments within the study area. Assess multimodal transportation conditions, including: growth patterns, congestion issues, freight, transit connectivity, bicycle, pedestrian, ITS, and safety.
Identify transportation issues and needs based on review of current and future conditions and stakeholder perspectives.
Identify and analyze feasible alternatives for improving the roadway network in the study area.
Prepare an economic analysis to assist in project justification, support funding applications, and assist in prioritizing projects from an economic development perspective.
Recommend high-priority projects for consideration by each stakeholder jurisdiction to include in their respective capital improvement program development, and develop a 20-year phased improvement plan.
Project Schedule
The project will be completed within a 12-month schedule. The schedule is included in the Work Plan Appendix. The schedule (Appendix A) identifies milestones including:
Technical Advisory Committee(TAC) meeting dates (identified as weeks; specific dates to be identified).
anticipated time frames for public involvement activities.
review periods of study deliverables.
Project Deliverables
Public Meeting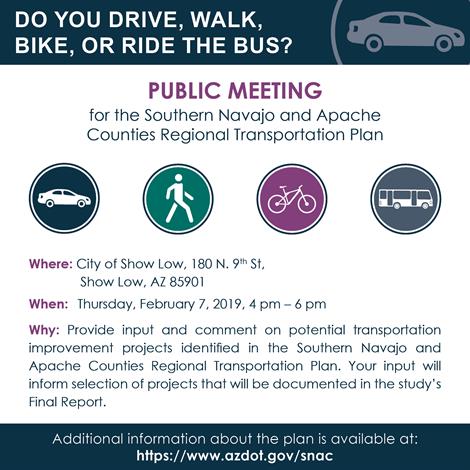 Meetings
Contact Us
Any questions or comments related to the study can be directed to the project manager:
John Wennes
Arizona Department of Transportation
206 S. 17th Ave.
MD 310B
Phoenix, AZ 85007
Phone: 602.712.7112