I-10 Broadway Curve Improvement Project: Loop 202 to I-17
Overview
The Arizona Department of Transportation, in partnership with the Federal Highway Administration and the Maricopa Association of Governments, is improving Interstate 10 between Interstate 17 and Loop 202 (Santan/South Mountain Freeway), including the Broadway Curve.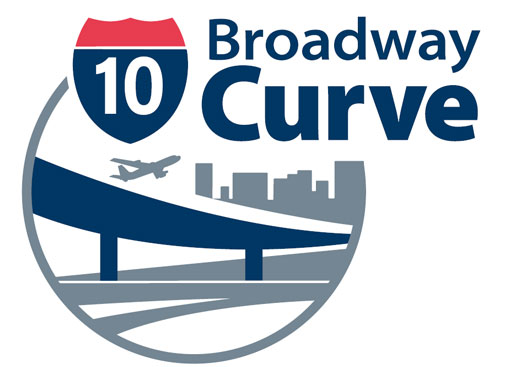 This 11-mile stretch of roadway is a key commerce corridor and has seen increasing levels of traffic over the past few years, especially during the weekday morning and evening peak hours.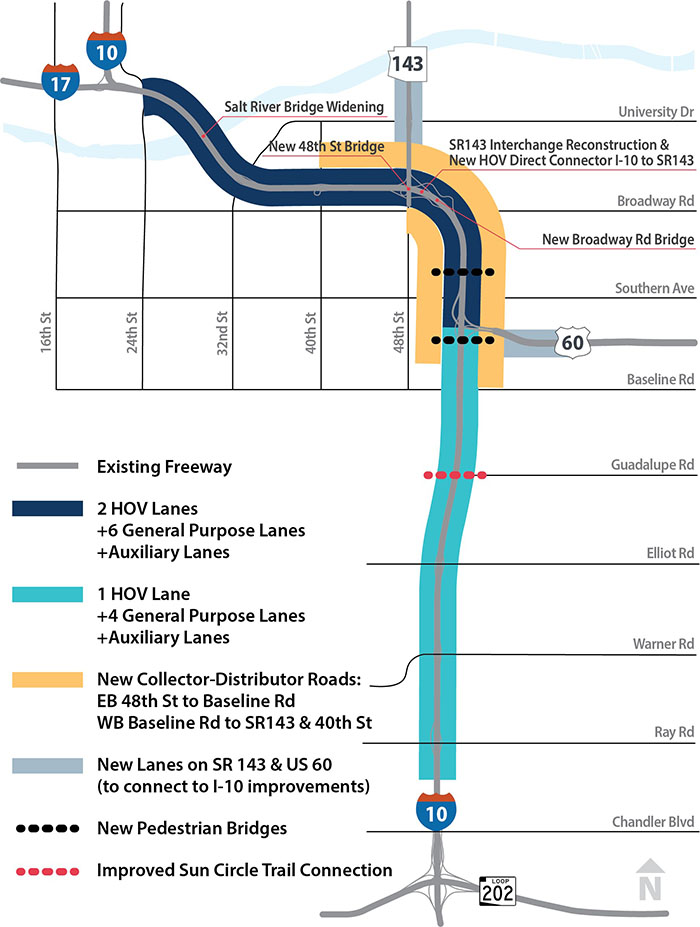 Major design improvements include:
Widening I-10 to six general purpose lanes and two HOV lanes in each direction between US 60 (Superstition Freeway) and 24th Street, and adding a fourth general purpose lane in each direction between US 60 (Superstition Freeway) and Ray Road.
Adding collector-distributor roads between Baseline Road and 40th Street. Motorists entering and exiting I-10 in this area will use the CD lanes as a transition between the main freeway lanes and surface streets. Only drivers traveling the entire distance between Baseline Road and SR 143 or beyond will use the I-10 mainline. This eliminates the need for drivers to make lane changes to exit I-10, which increases safety and traffic flow.
Modifying connections between I-10 and SR 143 and Broadway Road to improve traffic flow and create HOV lane connections, including construction of new bridges and SR 143 improvements between I-10 and University Drive.
Modifying connections to I-10 and US 60 (Superstition Freeway).
Adding two bridges for pedestrians and bicyclists over I-10 between Baseline and Broadway roads and improving the Sun Circle Trail crossing at Guadalupe Road.
Building sound and retaining walls where warranted.

The video is also available in Español.
ADOT completed the Environmental Assessment (EA) for this project with a Finding of No Significant Impact (FONSI). The EA was guided by the National Environmental Policy Act of 1969, Council on Environmental Quality regulations and federal and state environmental process requirements. With this environmental clearance, ADOT is moving forward with the project development, design and construction processes. Construction is currently scheduled to begin in summer 2021 and is expected to last up to four years.
Project Schedule

Schedules are subject to change based on weather or other unforeseen factors.
Economic Benefits
ADOT's partners at the Maricopa Association of Governments conducted an evaluation to determine the economic benefits of the project. Please see their findings on how this project will benefit the region's economy during design and construction and in the future.
Business Outreach
The I-10 Broadway Curve corridor provides important roadway connections for thousands of businesses across the metropolitan Phoenix area. ADOT will provide business representatives with regular project updates and opportunities to provide input and feedback. More information can be found on Business Outreach.
Public Input
ADOT has provided several opportunities for public review and comment on the Study and its environmental assessment. A public scoping meeting was held on Tuesday, February 26, 2019 and a public hearing was held on Thursday, October 24, 2019. More details about these meetings and the information presented is available under Public Outreach.
Stay Informed
Please subscribe to receive project updates by email. For questions or comments, email [email protected] or call the ADOT Bilingual Project Information Line at 602.501.5505.