Interstate 10 Broadway Curve: Interstate 17 (Split) to Loop 202 (Santan Freeway)
Overview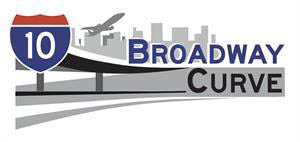 The Arizona Department of Transportation, in partnership with the Federal Highway Administration and the Maricopa Association of Governments, is studying preliminary concepts for proposed improvements to the I-10 Broadway Curve area between I-17 (Split) and Loop 202 (Santan Freeway). The study team is drafting an Environmental Assessment (EA) that will evaluate the proposed improvements as compared to the no-build alternative which is the condition that would exist if the project was not built.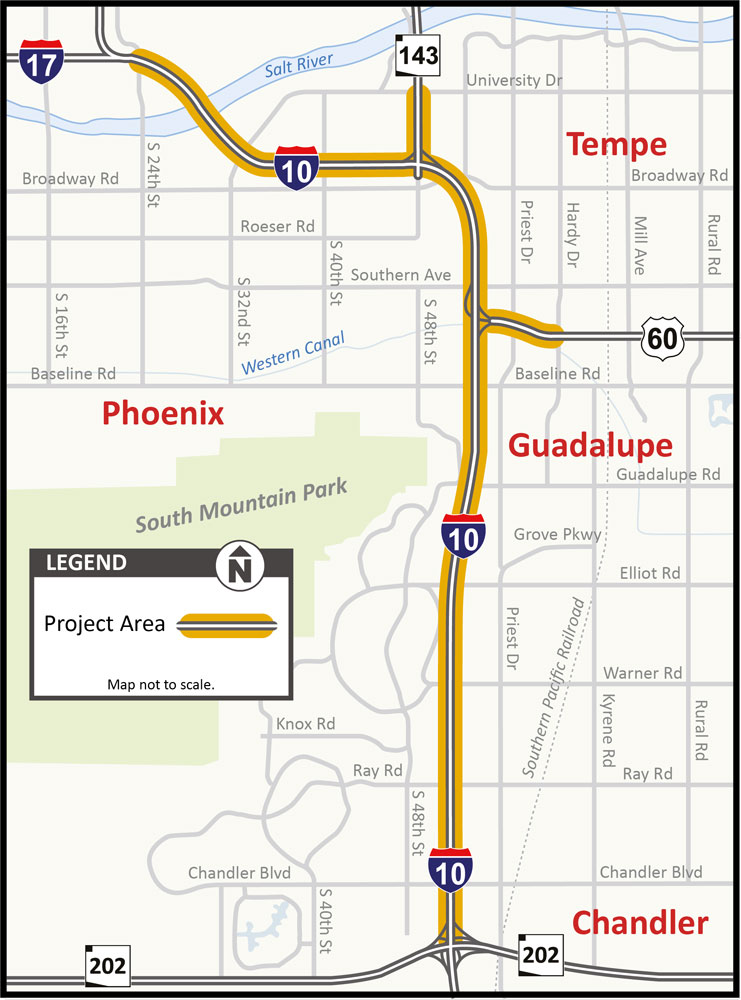 This 11-mile stretch of roadway is a key commerce corridor and has seen increasing levels of traffic over the past few years, especially during the heavily traveled morning and evening peak hours.
Proposed improvements being studied include:
Adding general purpose and high occupancy vehicle (HOV) lanes to improve traffic flow
Adding a collector-distributor road system to reduce the number of lane changes on the mainline and improve traffic flow
Modifying connections between I-10 and the State Route 143 and Broadway Road to improve HOV lane connections and traffic flow at the interchanges
Modifying connections of I-10 and US 60 (Superstition Freeway) to improve traffic flow at the interchange
Improving drainage along the freeway
Constructing new bridges to accommodate new interchange facilities and additional lanes
Improving roadway communication technology facilities
Building retaining and sound walls
Constructing pedestrian bridge crossings to improve pedestrian access across the freeway
Relocating utilities

The video is also available in Español.
ADOT's EA is guided by the National Environmental Policy Act (NEPA) of 1969, Council on Environmental Quality (CEQ) regulations, and federal and state environmental process requirements. Following the public review and comment period, a Final EA will be distributed with a selected alternative and a determination of the significance of the impacts will be made. If the Final EA determines that there are no significant impacts associated with the proposed improvements, the project will receive a Finding of No Significant Impact (FONSI).
Project Schedule
If a FONSI is received for this study, the study will move forward into the project development, design and construction process. Construction would begin in early 2021 and could take up to four years to complete.
Business Outreach
The I-10 Broadway Curve corridor provides important roadway connections for thousands of businesses in the area and across the metropolitan Phoenix area. ADOT will provide business representatives with regular project updates and opportunities to provide input/feedback throughout the project process. More information can be found on Business Outreach.
Public Input
ADOT has provided several opportunities for public review and comment on the Study and its environmental assessment. A public scoping meeting was held on Tuesday, February 26, 2019 and a public hearing was held on Thursday, October 24, 2019. More details about these meetings and the information presented is available under Public Outreach.
Stay Informed
Please subscribe to receive study updates by email. For questions or comments, email [email protected] or call the ADOT Bilingual Project Information Line at 602.501.5505.