Interstate 40 / US 93 System Traffic Interchange Study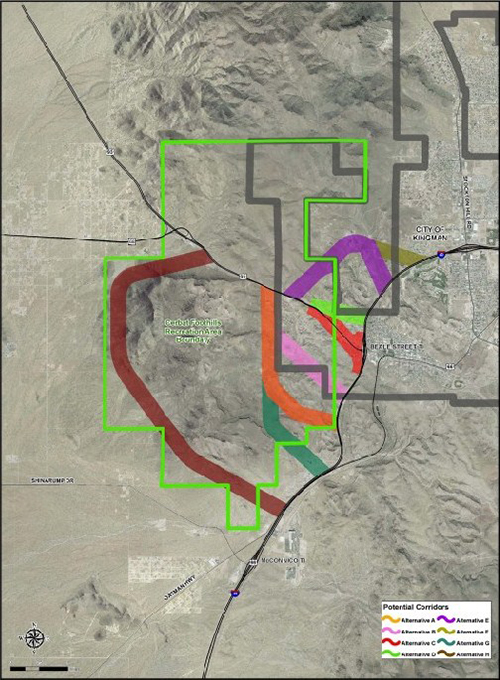 ADOT and the Federal Highway Administration, in coordination with the Bureau of Land Management, initiated a study in 2007 to identify a preferred alternative for improving traffic flow at the I-40 / US 93 traffic interchange (TI) in west Kingman. Alternatives for a new TI location were identified and evaluated to provide for a free-flow connection between I-40 and US 93. The study concluded in 2013 with a Most Favorable Alignment recommendation, which is included in the Final Feasibility Report.
In January 2019, ADOT began efforts to update the study recommendations. In this focused study, the Most Favorable Alignment presented at the 2013 public meeting is being refined, and the proposed improvements are being evaluated for potential environmental, social and economic issues.
The study is scheduled to be completed in late 2019. The findings of this study will be incorporated into the preferred alignment, and ADOT will advance the project into the final design phase.
In the meantime, ADOT will schedule open house meetings as information becomes available to share. ADOT and FHWA will be presenting the results of the study efforts, including the investigated alternatives and the recommended alternative, during a fall 2019 public hearing.
Phase 1 of this project, which will create a new traffic interchange on westbound I-40 to northbound US 93 and southbound US 93 to eastbound I-40, is currently scheduled for construction in ADOT's 2024 fiscal year.
Final Feasibility Report - October 2009