Traffic Alerts - I-10: SR85 to Verrado Way Improvements
New 253rd Avenue Opens to traffic west of Miller Road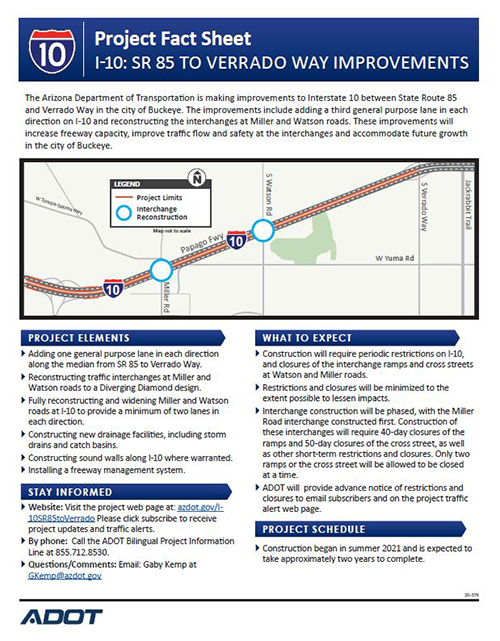 The Arizona Department of Transportation has opened a new road as part of the I-10: SR 85 to Verrado Way Improvement Project. The new 253rd Avenue, located to the west of Miller Road, is accessible via Pima Road and provides access to businesses on Yuma Road.
As part of the new configuration, Yuma Road is being converted into a cul-de-sac to allow for the expansion of the new traffic interchange at Miller Road.
Work on the $82 million project began in July and is anticipated to take approximately two years to complete.
The project includes adding a third general purpose lane in each direction on I-10 and reconstructing the interchanges at Miller Road and Watson Road to a Diverging Diamond design.
These improvements will increase freeway capacity, improve traffic flow and safety at the interchanges and accommodate future growth in the city of Buckeye.
For more information, please visit the project page.
You are encouraged to subscribe to the I-10 project email list to receive project updates and traffic alerts, and to share this email with family, friends, neighbors and coworkers.