Traffic Alerts - I-10: SR85 to Verrado Way Improvements
Update: Plan for lane and ramp closures on I-10 at Miller Road in Buckeye beginning Jan. 3
This advisory updates the planned I-10 lane restrictions
The Arizona Department of Transportation advises motorists who travel on Interstate 10 near Buckeye, AZ to expect delays while crews continue nightly I-10 lane restrictions and begin work on the westbound off-ramp and eastbound on-ramp at Miller Road.
East- and westbound I-10 from Verrado Way to a mile west of SR 85 one lane will remain open in each direction from Jan. 3, through March 5. Work is scheduled as follows: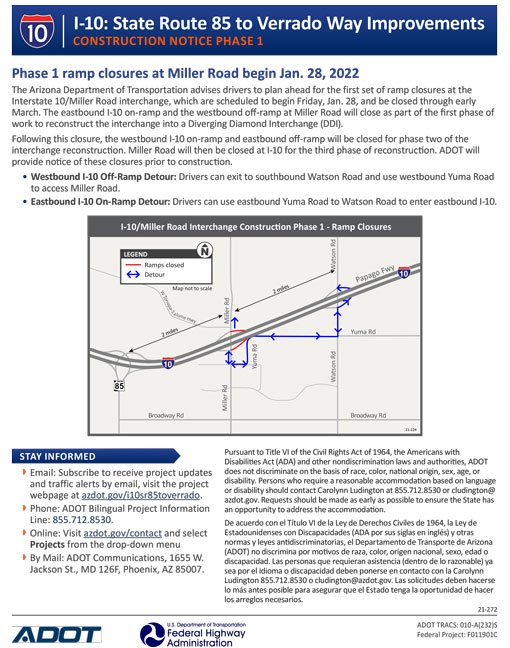 9 p.m. to 5 a.m. Sunday through Thursday nightly
9 p.m. to 9 a.m. Friday through Saturday nightly
Ramp Closures
The westbound I-10 off-ramp at Miller Road will be closed from 5 a.m. Friday, Jan. 28, until 5 a.m. Saturday March 5.

Detour: Drivers may exit at Watson Road and take Yuma Road to Miller Road.

The eastbound I-10 on-ramp at Miller Road will be closed from 5 a.m. Friday, Jan. 28, until 5 a.m. Saturday March 5.

Detour: Drivers may take Yuma Road to the I-10 eastbound on-ramp at Watson Road.
Motorists should use caution and be prepared to slow down and merge safely when approaching and traveling through any work zones.
Schedules are subject to change based on weather and other unforeseen factors. For more information, please call the ADOT Bilingual Project Information Line at 855.712.8530 or go to azdot.gov/contact and select Projects from the drop-down menu. For real-time highway conditions statewide, visit ADOT's Traveler Information Site at az511.gov, Need to know where a milepost is? Click on the "Mile Markers" icon on the map at az511.com. Follow ADOT on Twitter (@ArizonaDOT) or call 511, except while driving.
New 253rd Avenue Opens to traffic west of Miller Road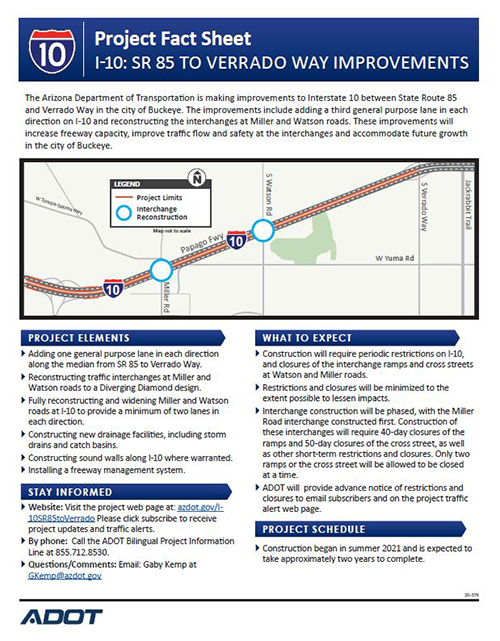 The Arizona Department of Transportation has opened a new road as part of the I-10: SR 85 to Verrado Way Improvement Project. The new 253rd Avenue, located to the west of Miller Road, is accessible via Pima Road and provides access to businesses on Yuma Road.
As part of the new configuration, Yuma Road is being converted into a cul-de-sac to allow for the expansion of the new traffic interchange at Miller Road.
Work on the $82 million project began in July and is anticipated to take approximately two years to complete.
The project includes adding a third general purpose lane in each direction on I-10 and reconstructing the interchanges at Miller Road and Watson Road to a Diverging Diamond design.
These improvements will increase freeway capacity, improve traffic flow and safety at the interchanges and accommodate future growth in the city of Buckeye.
You are encouraged to subscribe to the I-10 project email list to receive project updates and traffic alerts, and to share this email with family, friends, neighbors and coworkers.