I-17: Central Avenue Bridge Construction Project
The Arizona Department of Transportation, in association with the Maricopa Association of Governments (MAG), and in coordination with the city of Phoenix and Valley Metro, is replacing the Interstate 17 bridge over Central Avenue located south of downtown Phoenix. The bridge was identified for replacement in the MAG Interstate 10/Interstate 17 Corridor Master Plan (also known as the "Spine Study") to support the future widening of I-17 in Maricopa County.
Project Area Map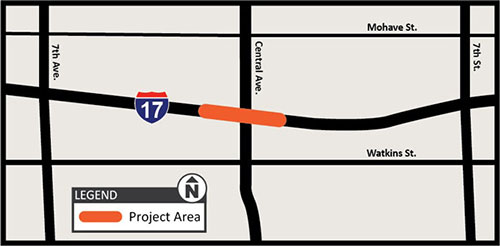 Why is this project necessary?
ADOT is removing and replacing the bridge for two primary reasons:
Bridge Age: The bridge was constructed in 1962 and is nearing the end of its useful service life.
Bridge Height: The existing vertical clearance of 13 feet, 11 inches over Central Avenue does not meet current design standards, prohibiting high-profile vehicles from using Central Avenue beneath the bridge, and cannot accommodate Valley Metro's future South Central Light Rail Extension.
Construction Timeline
Work is scheduled from April 2020 through fall 2021.
Schedules are subject to change because of weather and other unforeseen conditions.
About the Project
Key elements of this project include widening the bridge to accommodate the addition of a future 12-foot-wide auxiliary lane on the northbound and southbound sides of I-17 and increasing the vertical clearance over Central Avenue to 16 feet. This will enable high-profile vehicles and Valley Metro light rail trains to travel beneath it.
Bridge removal and replacement began on southbound I-17 to reconstruct the south half of the bridge. The southbound side was completed in February 2021 and work has shifted to northbound I-17 to complete the north bridge.
Project Rendering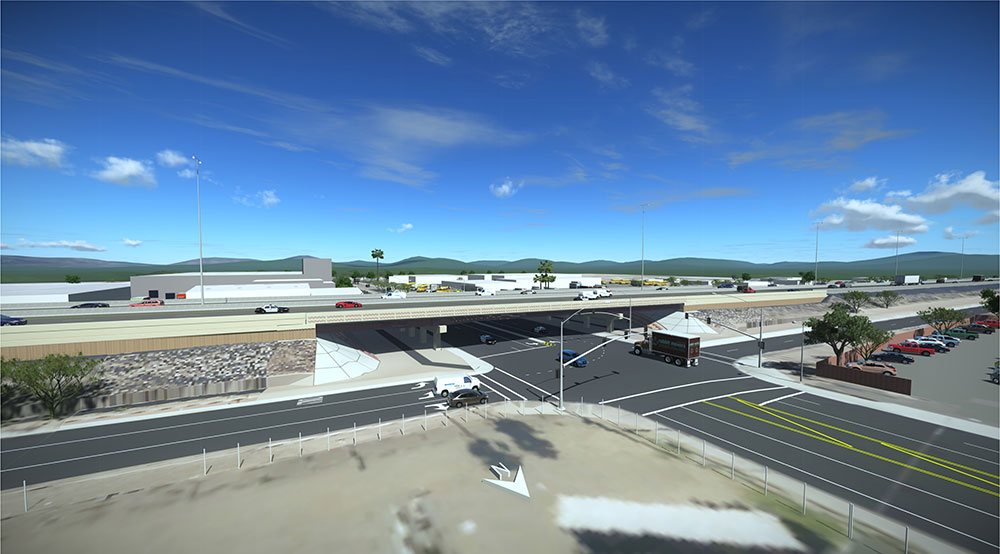 What to Expect During Construction
I-17 will be narrowed to two lanes in each direction at Central Avenue while construction is underway.
Crews are scheduled to work daytime hours, Mondays through Fridays, adjacent to I-17. Drivers need to slow down and use caution around construction personnel and equipment.
Additional work is scheduled to occur weeknights between 9 p.m. and 5 a.m. and on weekends.
No work will be scheduled on holidays.
I-17 and Central Avenue will be restricted or closed at times. Drivers should allow extra travel time and plan to use detours.
ADOT will provide information about restrictions and closures in advance so drivers can plan to use alternate routes and allow extra time.
Crews pour the deck on the north half of the I-17/Central Avenue bridge, Aug. 6 - 7, 2021
Crews install girders at the north half of the I-17/Central Avenue bridge, June 5 - 6, 2021
Crews remove north half of the I-17/Central Avenue bridge, Feb. 26 - 28, 2021
Crews install girders at the south half of the I-17/Central Avenue bridge, Oct. 30 - Nov. 2
Check out photos from the work zone on our May 2020, July 2020 and September 2020 Flickr Albums.
Stay Informed!
ADOT welcomes your questions and comments. Please contact us in any of these ways:
By email: Subscribe to receive project updates and traffic alerts.
By phone: Call the ADOT Bilingual Project Information Line at 855.712.8530.
Online: Submit a question or comment through the ADOT website. Visit azdot.gov/Contact and then select Projects from the dropdown menu.
By mail: Write to ADOT Community Relations, 1655 W. Jackson St., MD 126F, Phoenix, AZ 85007
Twitter: Follow ADOT on Twitter (@Arizona DOT) for real-time highway conditions statewide.