I-17: Central Avenue Bridge Design/Reconstruction Project
The Arizona Department of Transportation, in association with the Maricopa Association of Governments (MAG) and in coordination with the city of Phoenix and Valley Metro, is planning to replace the bridge on Interstate 17 over Central Avenue south of downtown Phoenix. The bridge was identified for replacement in the MAG Interstate 10/Interstate 17 Corridor Master Plan (also known as the Spine Study) to support the future widening of I-17 in Maricopa County.
Additionally:
The bridge, originally constructed in 1962, is nearing the end of its useful service life.
The existing vertical clearance of 13 feet, 11 inches does not meet current design standards. This low vertical clearance also creates problems for larger vehicles on Central Avenue and does not accommodate Valley Metro's future South Central Light Rail Extension.
Based on current available funding, ADOT is planning to design and construct the bridge in two phases. Phase One will provide an additional 12-foot auxiliary travel lane in each direction on I-17, and will accommodate large vehicles and light rail trains passing beneath the bridge on Central Avenue. The Phase One bridge will be a three-span structure with a 16-foot vertical clearance and will not require ADOT to acquire new right-of-way.
ADOT, MAG, the city of Phoenix and Valley Metro have agreed to defer construction of Phase Two – the ultimate bridge structure from the Spine Study that would accommodate six lanes of travel in each direction on I-17 – until a later date.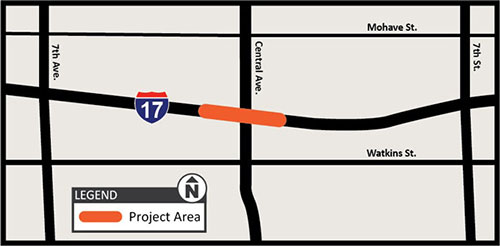 Anticipated Project Timeline
Design Phase: February – Late 2019
Bid Advertisement: Late 2019 / Early 2020
Construction: Scheduled to begin in 2020 and last approximately one year
Schedules are subject to change. Subscribe to receive project updates and traffic alerts by email. Ask questions or submit comments about this project in any of the following ways:
Email:
Telephone:
Call the ADOT Bilingual Project Information Line at 855.712.8530
Mail:
ADOT Community Relations
1655 W. Jackson St., MD 126F
Phoenix, AZ 85007