Interstate 17 Traffic Interchange Reconstruction – Happy Valley Road and Pinnacle Peak Road
Plan for increased construction work at Happy Valley Road
The Arizona Department of Transportation and the Federal Highway Administration are reconstructing the traffic interchanges on Interstate 17 at Happy Valley and Pinnacle Peak roads in north Phoenix. The project also includes adding an additional travel lane on I-17 and replacing a box culvert on Pinnacle Peak Road on the east side of I-17.
The purpose of the project is to improve safety and traffic flow as population growth and development in this area continues.
Construction at both interchange locations is occurring within existing ADOT right of way. ADOT does not need to acquire any additional property.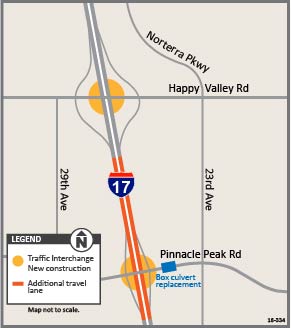 Travel will be impacted while construction is underway. ADOT will share information about specific lane restrictions or closures as it becomes available.
Project Schedule
Construction began in November 2018 and is scheduled for completion in fall 2020.
Subscribe to receive project update and traffic information by email.