Loop 101 (Agua Freeway), 75th Avenue to I-17 Improvements
Overview
The Arizona Department of Transportation, in cooperation with the cities of Glendale, Phoenix and Peoria, the Federal Highway Administration and the Maricopa Association of Governments, has initiated a project to widen and make other improvements to the Loop 101 (Agua Fria Freeway) between 75th Avenue in Glendale and Interstate 17 in Phoenix. The project seeks to address growing traffic demands in the northwest Valley and relieve traffic congestion on the Loop 101 during the morning and evening peak travel periods. The project will connect with the current Loop 101 Pima Freeway widening project east of I-17, which is slated for completion in early 2022.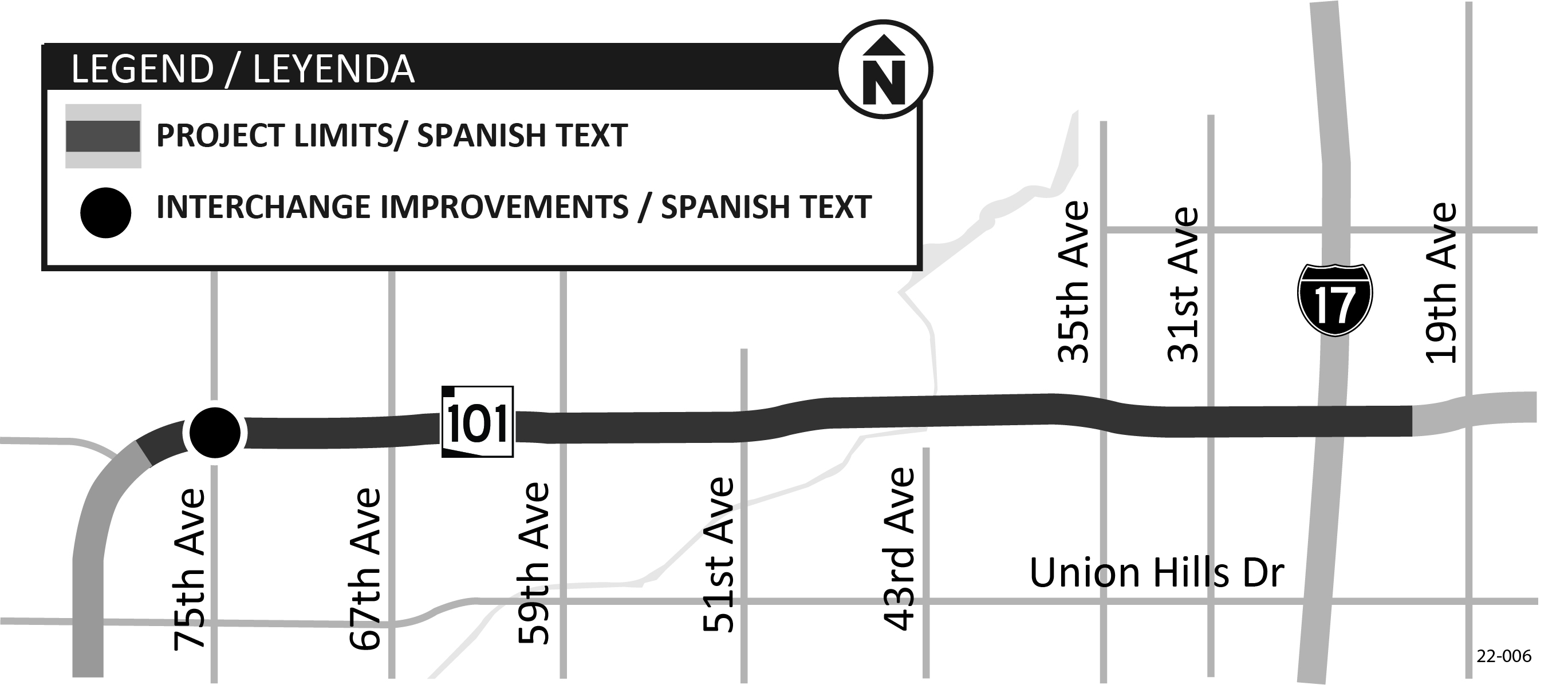 Project Elements
Major elements of this project include:
Adding one general purpose lane to the outside in each direction between 75th Avenue and I-17 within the existing freeway right-of-way.
Widening bridges at 59th, 51st and 35th avenues and constructing new retaining walls to accommodate the freeway expansion.
Interchange improvements at 75th Avenue to add a third southbound left turn lane onto eastbound Loop 101 within the existing roadway.
Modifying some interchange ramps and frontage road locations.
Adding or modifying noise walls in some locations.
Converting existing freeway lighting to LED.
Modifying the existing freeway drainage system.
Replacing impacted landscaping.
Schedule
The project is currently in the design phase.
Project construction is anticipated to begin in 2024.
Public Input
The project team hosted an online public meeting on Feb. 10, during which they presented an overview of three Loop 101 75th Avenue interchange alternatives under consideration and sought public input on the alternatives. For more information see the Public Meetings section.
A public meeting to review and provide input on the draft design plans for the Loop 101 widening project is planned for early 2022. ADOT will publicize the meeting date, time and format as soon as it's finalized.
Stay Up to Date
Please subscribe to receive project updates by email.
Submit questions and comments or request information in any of the following ways:
By Phone: ADOT Bilingual Project Information Line: 855.712.8530
Online: Visit azdot.gov/contact and select Projects from the drop-down menu
By Mail: ADOT Communications, 1655 W. Jackson St., MD 126F, Phoenix, AZ 85007