Loop 101 (Pima Freeway) Improvement Project: Interstate 17 to Pima Road
Loop 101 (Pima Freeway) Improvement Project: Interstate 17 to Pima Road
Overview
In 2019, the Arizona Department of Transportation initiated a project to widen and improve the Loop 101 (Pima Freeway) from Interstate 17 in Phoenix east to Pima Road in Scottsdale. Improvements were needed to address growing traffic congestion on Loop 101, especially during the morning and evening peak travel periods.
Major elements of the project included:
Adding one general purpose lane in each direction between I-17 and Pima Road
Adding an auxiliary lane in each direction between Seventh Street and Cave Creek Road
Constructing a new overpass structure at the future Miller Road alignment in Scottsdale
Modifying freeway ramps and frontage road connections at 11 interchanges
Additional components included construction of noise or retaining walls where warranted, improvements to drainage and diamond grinding of the concrete pavement.
The project was completed in early spring 2022.
Schedule
The anticipated schedule is as follows:
Summer 2018: Request for Proposals due from prospective Design/Build teams
Fall 2018: Contract awarded to Design/Build team
Early 2019: Construction begins
The project was completed in early spring 2022
Schedules are subject to change based on weather or other unforeseen factors.
Project Map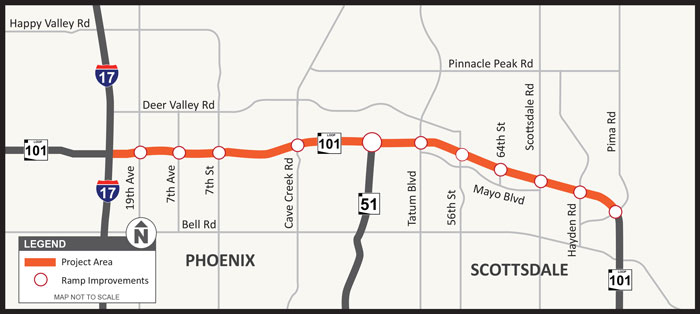 Project Files
Stay Up to Date

Submit questions and comments or request information in any of the following ways:
By Phone: ADOT Project Information Line: 855.712.8530
Teléfono: Línea de Información del Proyecto ADOT: 855.712.8530
Online: Visit azdot.gov/contact and select Projects from the drop-down menu
By Mail: ADOT Communications, 1655 W. Jackson St., MD 126F, Phoenix, AZ 85007