Loop 101 (Price Freeway) Improvement Project: Baseline Road to Loop 202 (Santan Freeway)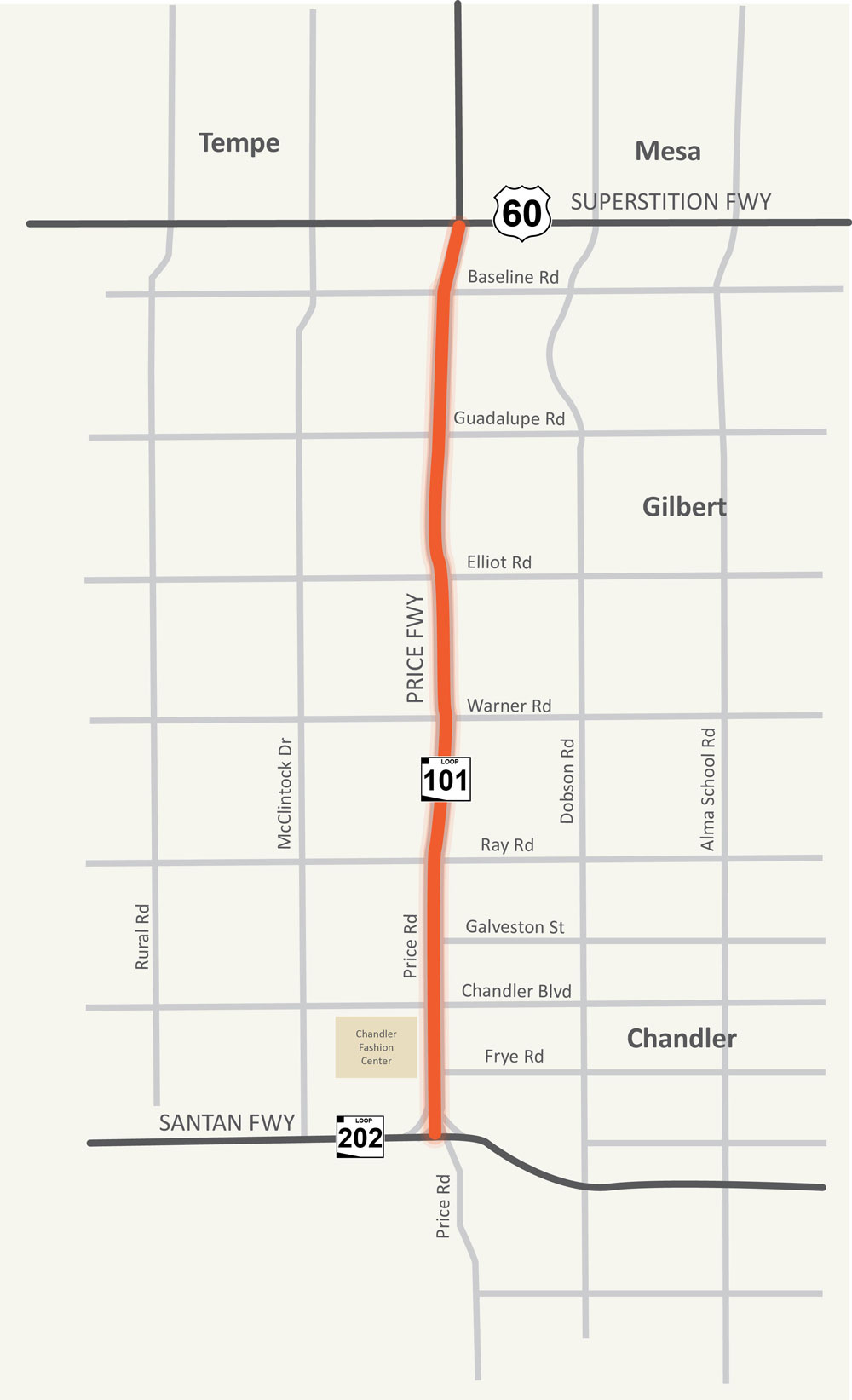 The Arizona Department of Transportation, in cooperation with the Federal Highway Administration, and in coordination with the Maricopa Association of Governments and the cities of Chandler, Mesa and Tempe, is improving 6.4 miles of the Loop 101 (Price Freeway) from just north of Baseline Road (milepost 55) to the Loop 202 (milepost 61). The purpose of the project is to reduce traffic congestion.
The project includes widening the Loop 101 to add one general purpose lane in each direction. When the project is complete, this section of Loop 101 will include four general purpose lanes and one high-occupancy vehicle (HOV) lane in each direction. A visual simulation of what the completed project will look like is available below. The project also includes widening the bridge at the northbound Loop 101 and Chandler Boulevard traffic interchange, as well as:
Modifying on- and off-ramps
Constructing or relocating noise and retaining walls where warranted
Improving drainage and erosion control
Installing intelligent transportation and freeway management system technology, such as closed-circuit television cameras and thermal cameras
Landscaping and aesthetic treatments
Installing or modifying signage
Installing new LED freeway lighting
What to Expect
Restrictions and full closures of the Loop 101 and cross streets in the work zone will be required. ADOT will share information about planned closures or restrictions in advance.
Plan ahead for delays and be prepared to use alternate routes.
Construction-related closures are scheduled to occur overnight and on weekends. Night work will be scheduled between 9 p.m. and 5 a.m. Weekend work will be scheduled from 10 p.m. Fridays through 5 a.m. Mondays.
To reduce impacts on travelers and nearby businesses during peak times, work that will require lane closures is not scheduled to occur on weekdays or between Nov. 15, 2019, and the New Year 2020 holiday.
The design-builder team will maintain access to businesses and homes in the project area. However, it might be necessary to use alternate routes at times.
North- and southbound Price Road will remain open. Drivers who use Price Road as an alternate route should anticipate heavier-than-usual traffic volume and allow extra travel time.
The new travel lanes will be constructed on the outside of the existing Loop 101 freeway. To create a safe work zone, crews will set up temporary concrete barrier along outside travel lanes, but also create gaps in areas throughout the work zone to allow drivers, law enforcement and other first responders to pull off the highway safely when necessary.
The shoulder will be reduced to three feet in width.
An 11-foot vehicle-width restriction will be in place through the work zone.
Project Delivery
This project will utilize the design-build (D/B) method which helps reduce the timeline, encourages innovation and can reduce overall project costs. This delivery method differs from the more traditional design-bid-build approach in which the project is completed in two phases (designed and then constructed). The D/B method pairs the civil engineering team with the construction contractor to create "design builders" who work synergistically from beginning to end. The D/B method is most advantageous when transportation improvements are needed to reduce traffic volume or chronic congestion.
Project Schedule*
Work began in summer 2019 and is scheduled for completion this summer.
*Schedules are subject to change based on weather and other unforeseen conditions.
Stay Informed
Schedules are subject to change based on weather and other unforeseen factors. Subscribe to receive project updates and traffic alerts by email. For more information, please call the ADOT Bilingual Project Information Line at 855.712.8530 or submit a question or comment by email. For real-time highway conditions statewide, visit ADOT's Traveler Information Site at www.az511.gov, follow ADOT on Twitter (@ArizonaDOT) or call 511, except while driving.