Center Segment - Loop 202 (South Mountain Freeway)
Center Segment
51st Avenue to 32nd Lane
Construction Alerts and Notices
Access Changes in Center Segment beginning October 22
Beginning late November, sections of Monterey Street, Galveston Street and 45th Avenue will be permanently closed. Drivers will be shifted onto a temporary, unpaved roadway connecting 45th Avenue and Galveston Street. The temporary roadway will be covered with asphalt millings, and drivers should exercise caution.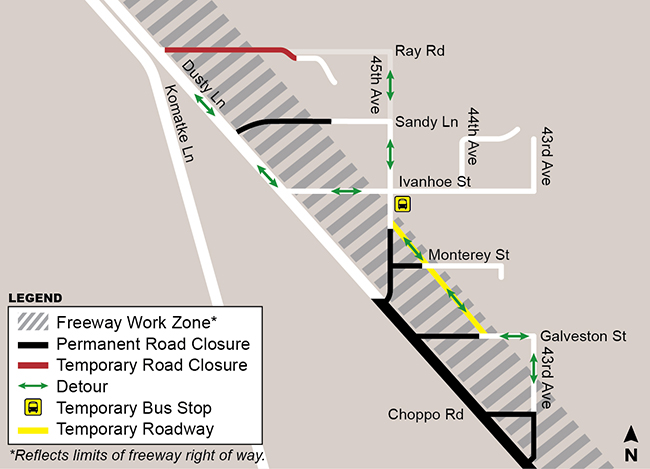 Larger and Spanish Versions Available
What to Expect:
Portions of Monterey Street, Galveston Street and 45th Avenue permanently closed
Traffic detoured onto unpaved roadway connecting 45th Avenue and Galveston Street
Flaggers used as needed to complete the connection to the new roadway
Bus stop for Laveen Elementary and Phoenix Union High School districts will be relocated further north near the intersection of 45th Avenue and Ivanhoe Street
Rock Crushing Operation - February 4 through Summer
Beginning in early February, Connect 202 Partners will set up a rock crushing operation within the Loop 202 South Mountain Freeway construction zone near Shaughnessey Road and Hiddenview Drive. Larger rocks from controlled rock blasting areas will be crushed for use as fill material for the freeway.
Work hours will be 24 hours a day, up to seven days a week
Noise from breaking up rock and loading/unloading rock materials
Trucks hauling rock material to and from the site throughout the day
For safety, back-up alarms and jobsite lighting will be in use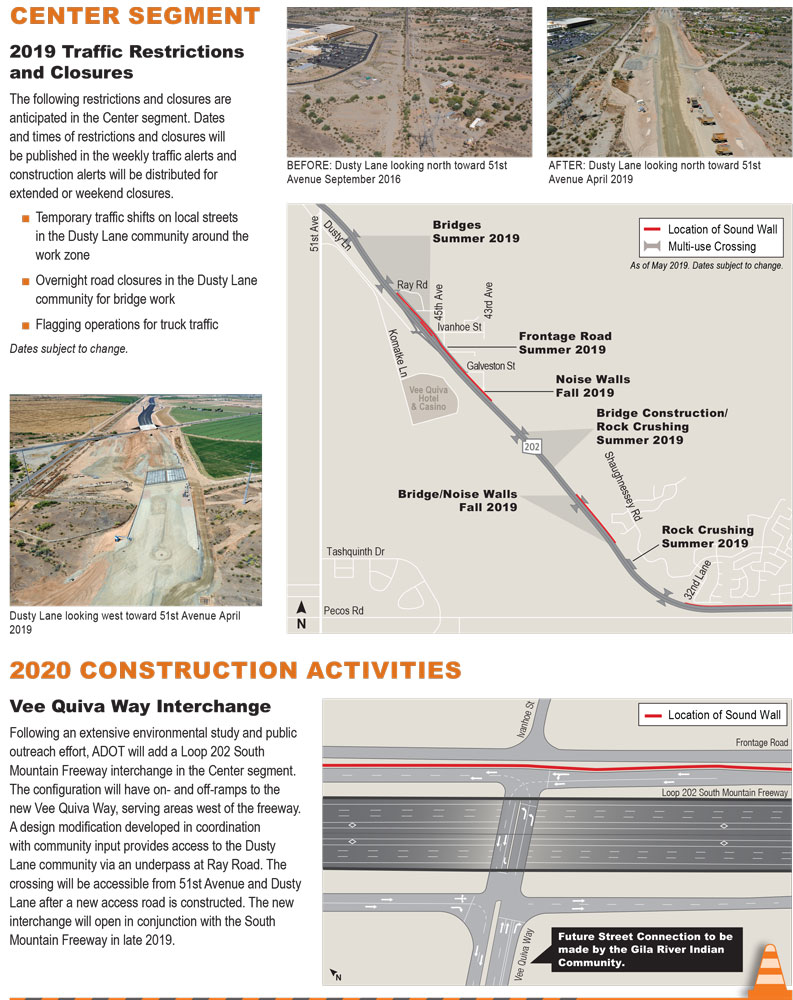 Larger and Spanish versions available

To receive advance notice of upcoming traffic restrictions, sign-up for weekly traffic alerts.
Residents, business owners, schools and homeowner's associations who may be directly impacted by construction will receive additional notices.
Controlled Rock Blasting Begins April 2018

Connect 202 Partners, the developer responsible for building the 22-mile-long freeway, will be using heavy equipment in the Center Segment to manually remove rock from portions of the South Mountain ridge line. Controlled rock blasting is also required to fracture additional rock. Controlled blasts may occur daily or multiple times a week through early 2019.

For more information about controlled rock blasting, please see the Frequently Asked Questions below.
What is controlled rock blasting?
Crews are using equipment to manually remove rock from portions of South Mountain. If the rock cannot be efficiently broken manually, controlled rock blasting using small amounts of timed charges will be needed to fracture the rock for removal. The broken rock will then be removed and used as fill for the freeway. Controlled rock blasting is a standard construction technique used in many areas of the nation for many years without damage to property.
How will I be notified?
Residents and property owners within approximately 1000 feet of the cut location where blasting is needed, will be notified five days prior to the onset of blasting. Once blasting begins in a cut area, it will continue for several weeks. Electronic message signs on 17th Avenue and Chandler Boulevard will provide information on any temporary traffic restrictions. Residents may also sign-up for weekly traffic alerts online, call 1.855.SMF.L202 or email [email protected] if they need additional information.
What can I expect?
Most residents will not experience any changes to their daily routine.
On the day of scheduled blasting activities, a siren will sound a five-minute warning, and crews will clear the area. A second siren will provide a one-minute warning. The actual controlled blast will only last a few seconds. Following the controlled rock blast, crews will clear the site, and an all-clear siren will sound.
Who will conduct the blasting?
Connect 202 Partners, the developer hired to construct the freeway, has hired a blasting engineer, blasting consultant and third party vibration monitoring team with close to 100 years of combined blasting experience in Arizona and across the United States. The Connect 202 Partners' team will conduct any required controlled blasting activities following industry best practices and in accordance with all applicable laws.
What do people feel?
Controlled blasting results in air pressure and vibrations. Air pressure from controlled blasting travels slower than vibrations in the ground). If you are inside your house, you may first sense vibrations beneath your feet, followed by wall and upper structure motion "noise". Certain structures may readily respond to the low frequency energy of airblast (lightly loaded structures, large exterior walls or highly peak roofs). As such, the duration of structure shaking may be longer than the duration of the ground motions alone. Farther from the blast, you may feel what you perceive as two blasts when indeed the structure may respond separately to the ground, then the air pressure. These vibrations will be similar to wind gusts of approximately 30 miles per hour.
How will vibrations be monitored?
Blasting seismographs will be placed at the closest structures surrounding the blast site as a control measure to ensure that the amplitudes of airblast and ground vibrations are as expected and well within safe standards. Blasting seismographs are used for quality control and to protect your property. Blasting and seismic reports are reviewed after each blast, and provided to regulatory agencies. Blasting and seismograph records are always retained by the blaster for future reference in the event questions arise about the blasting.
How will ADOT know the vibrations are not exceeding regulated limits?
Seismographs will be used to measure and record vibrations and noise at structures nearest to the project. This will assure we are generating vibrations within the safe blasting zone. State-of-the-art, digital seismographs will be employed by qualified engineers. Vibration records will be provided to the contractor and permitting authorities. A database of ground vibration measurements will be developed and relied upon to assure compliance with safe criteria for all surrounding structures.
What are the safe standards for blasting?
Safe blasting standards were proposed by the USBM (shown below) based on over 40 years of studies that included direct crack observations correlated with ground vibrations. Frequency-based standards limit maximum ground velocity as a function of frequency at the peak velocity. Blasting below this line is safe as this line represents the 100-percentile (or level of assurance) that threshold cracking in wall materials, such a drywall, will not occur. Above this line, damage may occur at increasing intensities as peak velocity increases. These are the standards to which our project blasting will adhere.
These standards have been adopted as law by some state, county and city regulatory bodies for quarry and construction blasting. In the absence of regulations, this criterion is widely employed by blasters when blasting is conducted near structures and now serves as the industry standard for safe blasting in the U.S. for all types of structures and blasting in all types of geology. To this day, there has been no scientific study that challenges these standards. Standards established by the City of Phoenix are more stringent than federal requirements.
How does blasting relate to the Richter Scale?
The Richter magnitude scale was developed in 1935 as a mathematical device to compare the size of earthquakes from a number of monitoring locations to establish the epicenter (origin) of a quake. On the Richter scale, a magnitude 5.3 might be computed for a moderate earthquake, and a strong earthquake might be rated as magnitude 6.3. Except in special circumstances, earthquakes below magnitude 2.5 are not generally felt by humans.
There is no direct comparison of the energy of vibrations from blasting with the Richter scale. The Richter scale is not used to express damage to structures as it does not represent intensity but rather magnitude. Therefore, it is not appropriate to compare Richter magnitude numbers to blasting intensity if cracking potential is being considered.