Construction - SR 347 at Union Pacific Railroad
Pre-construction activity began in March 2018 with the removal of vacant structures in the work zone. The project is scheduled for completion by late 2019.
What to Expect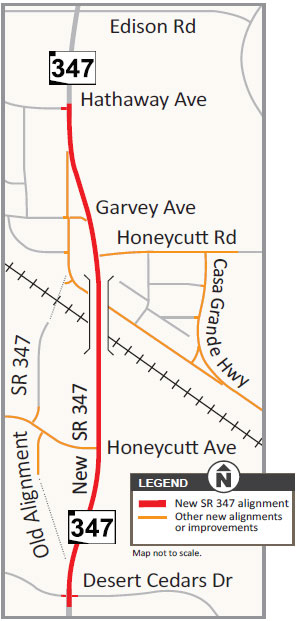 Work is generally scheduled to occur Mondays-Fridays during daytime hours, with some overnight work if needed.
Occasional work could be scheduled on weekends. No work is scheduled to occur on holidays.
Drivers should expect delays while construction is underway. Allow extra travel time on SR 347, the Maricopa- Casa Grande Highway, Honeycutt Road and Honeycutt Avenue.
Detours and lane reconfigurations will be in place to accommodate restrictions or closures in the work zone.
The speed limit in the work zone will be reduced.
Schedules are subject to change based on weather and other unforeseen factors.