Study - SR 347 at Union Pacific Railroad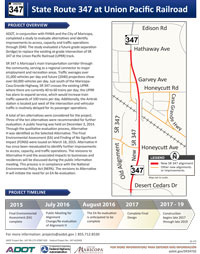 SR 347 is Maricopa's main transportation corridor through the community, serving as a regional connector to major employment and recreation areas. Traffic averages over 31,000 vehicles per day and future (2040) projections show over 60,000 vehicles per day. Just south of the Maricopa-Casa Grande Highway, SR 347 crosses the existing UPRR where there are currently 40 to 60 trains per day; the UPRR has plans to expand service, which would increase train traffic upwards of 100 trains per day. Additionally, the Amtrak station is located just west of the intersection and vehicular traffic is routinely delayed for its passenger operations.
ADOT, in conjunction with FHWA and the City of Maricopa, completed a study to evaluate alternatives and identify improvements to access, capacity and traffic operations through 2040. The study evaluated a future grade separation (bridge) to replace the existing at-grade intersection of SR 347 at the Union Pacific Railroad (UPRR) track.
A total of ten alternatives were considered for the project. Three of the ten alternatives were recommended for further evaluation. A public hearing was held on December 3, 2014 to gather community input. Through the qualitative evaluation process, Alternative H was identified as the Selected Alternative. The Final Environmental Assessment (EA) and Finding of No Significant Impact (FONSI) were issued on March 18, 2015. Alternative H has since been reevaluated to identify further improvements to access, capacity, and traffic operations. The revisions to Alternative H and the associated impacts to businesses and residences will be discussed during the public information meeting. This process is in compliance with the National Environmental Policy Act (NEPA).
Revisions to Alternative H in Final Environmental Assessment Available for Public Review
On March 18, 2015, the Federal Highway Administration issued a Finding of No Significant Impacts (FONSI) (the final decision-making document for the project) selecting build alternative H. The Draft and Final EA is available for review online.
The revisions to Alternative H will initiate the need for an EA Re-evaluation. Final design is anticipated to be complete in 2017, with construction tentatively scheduled to begin in the spring of 2018 through late 2019.