State Route 347 at Union Pacific Railroad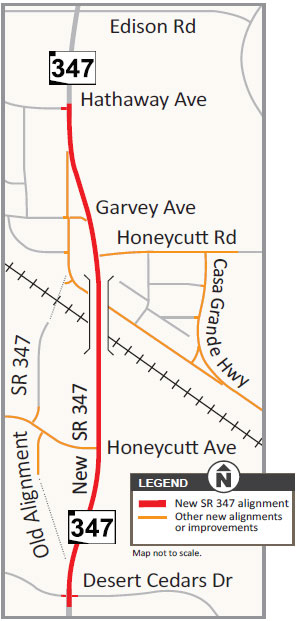 The Arizona Department of Transportation reached a major milestone earlier this summer when about 2 miles of State Route 347 shifted to a new alignment between Hathaway Avenue on the north and Alterra Parkway/Desert Cedars Drive on the south.
As a result of the traffic shift, motorists are now benefiting from the centerpiece of the project: a 500-foot-long bridge carrying traffic over the Union Pacific Railroad tracks and Maricopa-Casa Grande Highway.
While the project is about 80% complete and on schedule to finish by the end of the year, a lot of work remains. This includes removing the former at-grade railroad crossing, widening Maricopa-Casa Grande Highway between the overpass and Plainview Street and transforming the old SR 347 alignment into a new roadway.
ADOT has created a temporary detour and business access map to help motorists navigate their way through the heart of Maricopa during the third, and final, phase of construction.
Stay Up to Date
Please subscribe to receive traffic alerts and project updates by email. Submit questions and comments or request information in any of the following ways:
ADOT Bilingual Project Information Line: 855.712.8530
Online: Visit azdot.gov/contact and select Projects from the drop-down menu
By Mail: ADOT Communications, 1655 W. Jackson St., MD 126F, Phoenix, AZ 85007